A recent addition to the Titanic collection in her home town of Belfast, Northern Ireland. Here we have a sculpture of 3 workmen walking from the direction of Harland & Wolff at the end of a days hard graft and labour.
In the background can be seen the modern looking gantry crane that is still used by the yard, a complete juxtaposition of these men from a bygone era, in the modern world of today.
Taken on my Nikon D3100 DSLR and edited in Adobe Photoshop making use of Topaz filters and Photomatix.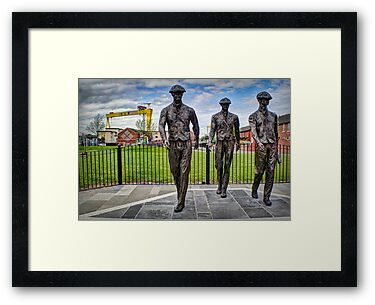 Exposure: 1/80sec
f-stop: f/13
ISO: 200
Lens: Nikor 18-55mm VR Lens.