Another of HMS Caroline in Alexandra Drydock, Belfast, N Ireland. This time we have a close up of her superstructure which includes the wheelhouse and bridge aswell as the gangway that was used for access down to the ships boats.
Shes the last survivor of the Battle of Jutland, the largest naval engagement of WWI.
Featured in
The World As We See It Or As We Missed It
Artists Universe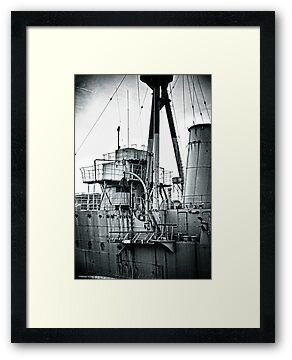 Taken with my Nikon DSLR 3100 and edited in Photoshop CS5 including topaz filters.
Exposure: 1/250sec
f-stop: f/5.6
ISO: 200
Lens: Nikor 18-55mm VR Lens.