A wide shot of Liverpool docks, England. In this view it is clear to see the Royal Liver Building.
Opened in 1911, the building is the purpose-built home of the Royal Liver Assurance group, which had been set up in the city in 1850 to provide locals with assistance related to losing a wage-earning relative. One of the first buildings in the world to be built using reinforced concrete, the Royal Liver Building stands at 90 m (300 ft) tall and was the tallest building in Europe for more than 20 years after its completion. Furthermore, it was the tallest building in Liverpool and the United Kingdom for over half a century.
The Royal Liver Building is one of the most recognisable landmarks in the city of Liverpool and is home to two fabled Liver Birds that watch over the city and the sea. Legend has it that were these two birds to fly away, then the city would cease to exist.
136 views as of 25/4/12
Featured in
The World As We See It Or Missed it
Covershots
Stunning Scenery Favourites
Taken with my Fujifilm S7000 and edited in Photoshop CS5 using Topaz filters.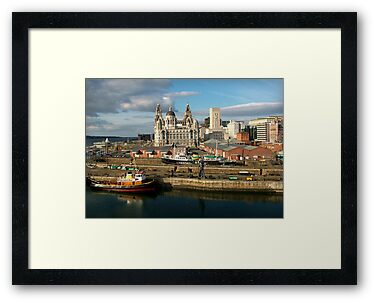 Exposure: 1/240sec
f-stop: f/4
ISO: 160
Lens: Non-interchangeable, Zoom 35-210 eq.