Here we have an old original photograph of the Titanic being fitting out in Thompson Drydock, Belfast.
Obviously im not quite old enough to have taken this image myself, I have merely selected one of the many versions of the image on the internet and tweeked and enhanced it in Photoshop, to remove any signs of aging and damage, aswell as to enhance the contrast to bring out more detail.
What I find interesting about this photo, is the Titanics iconic black hull as actually only being painted black now. She had a lighter grey undercoat throughout most of her construction. One major reason for this was to allow the detail of her hull to become visible for photography of the day. How times have changed when they painted entire ships just so your photo would turn out better.
A personal sideline on this photo. When I lived in East Belfast, barely a stones throw away from where this photo was taken, an old neighbour of mine, a man called Ernie who was born in 1900 used to tell me stories of his past. One time while visiting him as a small kid, he told me about the day his father who worked in Harland and Wolff brought him in and onboard the Titanic whilst she was still fitting out. Almost 100 years on he could still remember as a 12yr old boy the grandeur of the ship, and how grown men wept upon hearing of her sinking.
149 views as of 26/02/12
Featured in
The World As We See It Or As We Missed It*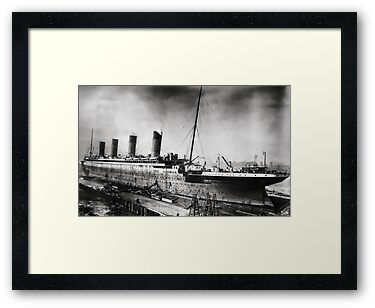 Featured in:
The World As We See It Or Missed it
The World Around Us
New to Vintage