Reconstruction of a piece of the Titanics Hull, erected beside Thompson Drydock, Belfast where the ship was completed.
I took this image looking back over Belfast, showing some of the construction work going on in the area, the redevelopment of Queens Island into the Titanic Quarter. In the background one of the large suspension cranes can be seen of Harland & Wolff
Taken with my Nikon DSLR 3100 and edited in Photoshop CS5 aswell as making use of Topaz plugins for CS5.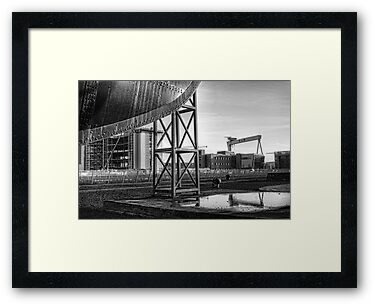 Exposure: 1/250sec
f-stop: f/9
ISO: 200
Lens: Sigma 10mm Fisheye Lens.