Palenque, Chiapas, Mexico
On the southern edge of the central plaza of Palenque, set against a steep limestone hill, the Temple of the Inscriptions held a remarkable secret for centuries.
In 1948, Alberto Ruz investigated four curious stone plugs in the floor of the temple and discovered a secret passage filled with rubble. It took four long seasons to remove the rubble from the steep and slippery stairway that came to a landing then changed directions and continued on for 80 feet below the temple floor and 5 feet beneath the level of the central plaza.
Behind a triangular slab door, Ruz made a discovery that would change the world's view of Maya pyramids; an amazing stone chamber that housed an elaborately carved sarcophagus. Within this sarcophagus was the richest offering of jade ever seen in a Maya tomb. Placed over his face, a mask fitted with jade mosaic and a suit of priceless jade adorned his body. Each piece of hand- carved jade was threaded together with gold wire.
It was Pacal himself who had this magnificent pyramid built and his heir, Chan Bahlum who completed it. The temple rises 75 feet high and the roofcomb would have added an additional 40 feet. This must have been an impressive sight from the northern plains, visible from miles away.
This is a panorama of 3 vertical images stitched together horizontally in PTGUI Pro
Nikon D2x ,Nikkor 17-35mm f/2.8D ED-IF AF-S
f/8 1/60th ISO 100, Warming Polarizer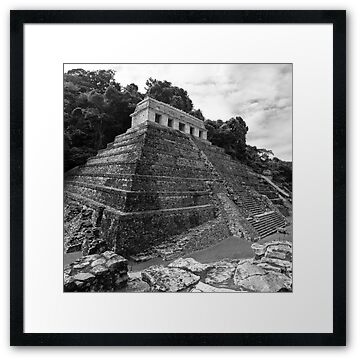 The Color version: