A Sazzart & Tanya N collaboration.
I found the model, stuck it in a basic background in Bryce and sent it to Sazz who tweaked it, rendered it and voila!
Vice Admiral Lord Horatio Nelson's Flagship, HMS Victory, Bryce Obps courtesy Public Domain, used under Fair Use Doctrine Act.
Inspired by my visit to the real thing in Portsmouths Historic Dockyard. It's well worth a visit if you are in the area. A totally awesome ship with so much history.
Made with Bryce 7 Pro and Daz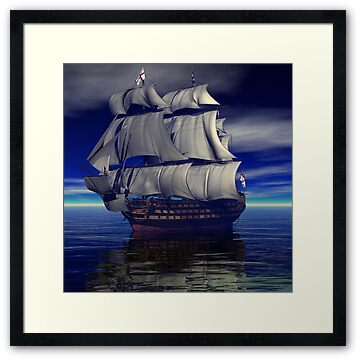 The Battle of Trafalgar (21 October 1805) was a sea battle fought between the British Royal Navy and the combined fleets of the French Navy and Spanish Navy, during the War of the Third Coalition (August–December 1805) of the Napoleonic Wars (1803–1815).
The battle was the most decisive British naval victory of the war. Twenty-seven British ships of the line led by Admiral Lord Nelson aboard HMS Victory defeated thirty-three French and Spanish ships of the line under French Admiral Pierre Villeneuve off the south-west coast of Spain, just west of Cape Trafalgar. The Franco-Spanish fleet lost twenty-two ships, without a single British vessel being lost.
Nelson was mortally wounded during the battle, becoming one of Britain's greatest war heroes.
There is still a mark on the deck where he died. I do not know if that is real or just for the tourists but they say it is real.