The cityhall of Gouda and the Christmas Tree from Kongsberg, Norway. This year the Tree is decorated with small round Gouda cheese (Cheese from Gouda is a yellow cheese made from cow's milk. The cheese is named after the city of Gouda in the Netherlands). It looks very funny…..
Last Tuesday, December 14, 2010 in Gouda the 55th Evening of the Candles took place: Gouda by Candlelight. The streetlanterns and shop lights are off and 1500 white Gouda candles are burning in the historic Gothic town hall and thousands of candles in the windows of the upper floors of the shops around the market. Around 7:00 p.m. the Christmas Tree is lit by Mr. Wim Cornelis, Mayor of Gouda.

In 1365 bought the town of Gouda the marktveld of Mr Van der Goudé for a town hall building. Yet it would take until 1448 before construction began. The building was erected from Belgian limestone. The foundation was not drived, but a few rafts of heavy oak beams were used. Until 1603, the townhall was surrounded by water and was to reach by a drawbridge. In that year (1603), the current plateau in Renaissance style was by the city sculptor Gregory Cool manufactured.
Gouda, Holland – 18 December 2010
Camera: Canon Powershot SX1 IS
695 views – 24 December 2012
Please, take also a look at
Christmas in Gouda – December 2008
Christmas in Gouda II – December 2009
in

~ 1st place in the
~ tied 3rd place in the
~ tied 4th place in the
~ tied 5th place in the
~ tied 6th place in the
~ 7th place in the
~ 8th place in the
~ 9th place in the
~ 10th place in the
.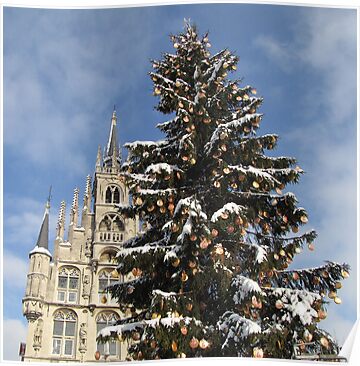 .