It has been extremely cold Winter here in Ky. With lots of snow. Not at all normal for us. To be honest the cold is getting me down but I LOVE snow, probably because we don't get to see much of it. I know that other parts of the US have had it very bad compared to us. Heck other parts of the world have it so much worse. I can't imagine the floods that so many of our fellow bubblers have had in Australia.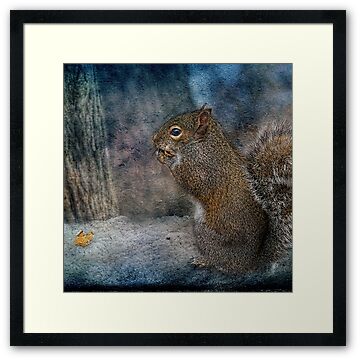 I took this photo yesterday 2/1/11 very late, just before dark. It has been so cold that I have not seen any squirrels or my raccoons for that matter, for the last few days. This little squirrel is one that visits on a regular basis. She will climb the side of my house and look inside my upstairs window waiting for me to drop some nuts her. She has a split right ear, so it is easy for me to recognize her.
I put out Hickory nuts along with a few Almonds for her but had to stop because I think she would have stayed until after it was dark if I had continued. I took this photo just as she finished her last almond for the evening. She looked up at me for more but I told her to get home before dark and that I would have more for her tomorrow, so off she went. Hope you enjoy it.
Mel
Photo was taken with Minolta 5D DSLR 135mm F2.8 prime lens. I took it at 1/60 , ISO 800 at F5.6 . Post processing was done in Photoshop CS4 using Topaz Adjust 4, then added 2 grunge layers from Shadowhouse. oil painting 2 and 3.