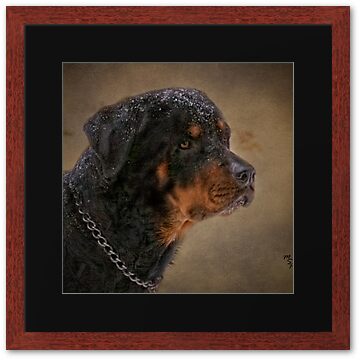 Gretta, loves the snow. She runs around in it and tries to get the cats to play with her. Kaly will run to her, jump up and put both paws on either side of Gretta's muzzle like she is playing tag. Nothing like watching a big old Rottie and a little calico cat bounce around in the snow like a couple of kids. Thank goodness neither of them can make snowballs, because I would have been in trouble. Any time I take Gretta for a walk, both Kaly and her brother Simon will tag along. The poor dog can barley walk because one or the other is either running between her legs or hurrying just a few feet ahead so as to throw themselves down right in front of her wanting to play. She really does love them. Gretta is a big strong, tough as nails girl that has the most tender side to her that you could ever hope to meet. I can tell you I sleep just fine at night knowing that no one is going to come into or near our house without Gretta having a say in it. We have only had Gretta with us since last Summer. She is at least 5 years old and had to be placed with a new family because of a landlord dispute. I felt so sorry for her because she loved and missed her first family so much. She had no idea what had happened to her or where she was. I kept telling her that she did nothing wrong and what a good girl she was but it still took her a while to adjust to loosing her family that had raised and loved her for all those years. She has settled in fine and seems to be happy. Mack & I love her very much and feel lucky to have her.
I took this photo of her in our front yard on 1/20/2010 when it was snowing like a blizzard. We, as many others in the US this Winter have had much more snow and colder temps than normal. Here in Kentucky we usually don't see much if any snow before late February or early March. To be honest I love the snow, but wish they would clean the roads where we live, I have not been able to get the car out for 5 days now. I really should not complain because at least we are not having the horrible floods like our friends in Australia. I can't imagine how hard it must be there. Well. I just wanted to show off our Gretta girl to you all. Hope you think she is as beautiful as we do.
Photo taken with Minolta 5D DSLR with 18mm-70mm lens. I used CS4 with a grunge layer layer that I texturized to finish it. The original background was pretty ugly!