Featured in Digital Art At It's Best 09-02-2011

Featured in Flame Apophysis 08-10-2011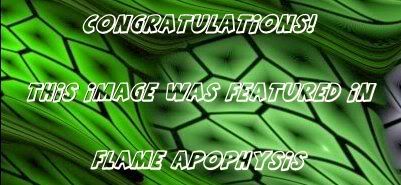 This is another fractal made using the Bubbles Tutorial by dA's nightmares06. It's currently one of those being done in the Apophysis Tutorial Fun group. I am finding lots of interesting looking flames with this tut. It took me awhile, but it is definitely growing on me.
Made in Apophysis 7X v15 and postwork done in PhotoPlus X4.
Full view for detail.
Art Copyright
My artwork may not be edited, reproduced or modified in any way without my express written permission. Downloading or modifying my images is not permitted, and will be considered a breach of my copyright.