Featured in Apophysis Tutorial Fun 03-06-2011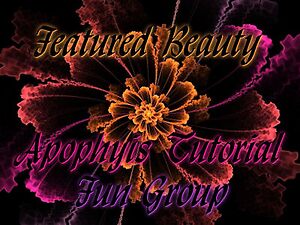 Here's a flower I did using the Apophysis Blooms tutorial by dA's lindelokse
It's the tut being done currently in the Apophysis Tutorial Fun group
I made this for Jaclyn Hughes, the driving force behind the group. If you want to get a real workout on Apo tutorials, then this group is for you. Come check it out.
Made in Apophysis 7X v15 and postwork done in PhotoPlus X4.
Full view for detail.
Art Copyright
My artwork may not be edited, reproduced or modified in any way without my express written permission. Downloading or modifying my images is not permitted, and will be considered a breach of my copyright.