This is another tweak for the PONG 4 Challenge Practice being held by Fractal PONG
This is the image of the params I tweaked. This image is by plunder:

Deb's was actually a tweak of another set of UF params by Bunny Clarke. Here's that original image:

The starting params were submitted by plunder and autumngirl . They were awesome params. I had a lot of fun playing with these.
I will paste the params in the message board, but sometimes RB screws up the code and they won't paste right. I can email them to whomever might want them.
Made in UF5 and postwork done with GIMP.
Full view for detail.
Featured in The Ultimate UF5 And Beyond 10-15-10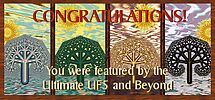 Art Copyright
My artwork may not be edited, reproduced or modified in any way without my express written permission. Downloading or modifying my images is not permitted, and will be considered a breach of my copyright.