Featured in GROOVY KITTY CATS ~ 15 June 2011

Featured ARTISTS UNIVERSE 04 July 2011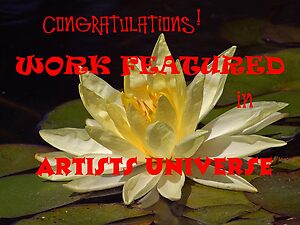 Bella is an intelligent and loving little girl. When I found her at our local animal rescue, she was less than a year old and had one very weak little baby. She had been found living out in the woods , was very underweight and in very sad shape. The minute I saw her, she looked straight in my eyes, so I asked the attendant if I could hold her. She simply relaxed in my arms, started purring. and our two hearts sang together that blissful morning. An hour later, we were on our way home. She has proven to be the most wonderful house cat who will be my alarm clock if I am not up by 6AM. She will start nibbling on my arm and nuzzling me to get up and face the day. Also, she will scold the other cats if they are found scratching the furniture and is always so polite when she is fed. She will not start eating until I put the food in front of her and stroke her back. All of this is amazing to me since she was living out in the wild as if she were ferrel,
Most likely, she would be classified as a Traditional Siamese or an Applehead Siamese and she has the quietest little meow. Also, her fur has darkened so much and feels as if it is a rich and luxurious satin. She brings me joy every single day and is my little soul mate..
The Traditional Siamese (aka Applehead Siamese) is one of the oldest breeds of domestic cats. It preserves the look of the breed much as it existed when originally imported from Siam – a muscular, athletic cat, with round head and brilliant blue eyes and the striking contrast between point and body color which characterizes the breed. They are very calm, affectionate cats, typically healthy and long-lived – 15-20 years is average, and over 20 is not uncommon.
The Traditional Siamese is an intelligent, people-oriented cat which enjoys human companionship – whether it be as a lap warmer or chasing a toy. They are inquisitive and friendly, and like nothing better than to sit in the middle of something you are trying to read. They talk to their people in an affectionate, conversational way.
With their calm temperaments, they are well-adapted to life in either a house or an apartment. They are not in perpetual motion – they have a fairly balanced activity level and are just as happy to chase a toy as to curl up in your lap for a snooze.