Featured in ALL OREGON ~USA ~ 24 April 2010
119 views ~14 Feb 2011
When I was visiting Nye Beach at Newport, Oregon, I totally fell in love with this charming Bed and Breakfast Inn. A fabulous dining room called "Table of Content" with some of the most delicious food served anywhere along the Oregon coast. We were served family style with a group of people we had just met and played a game called "two truths and a lie." A great little ice breaker to get to know people and it is a lot of fun. Got to peek at a few of the charming guest rooms and a visit to the gift shop was a must. You could count on the resident cat keeping you company while you browsed. Definately a place to return to one day soon and an Inn you will never forget.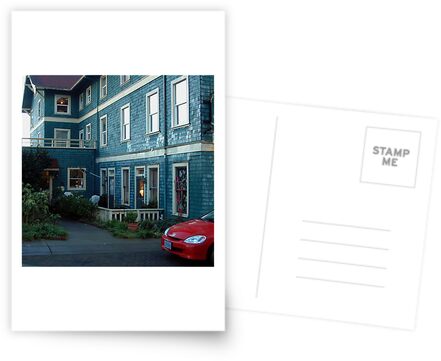 Truly a gem! A bed-and-breakfast for the literati. A beach from view of the Oregon coast, a library and best of all, rooms themed after writers. This is one of those very special places where rooms come with out phones, television, and floor plans. Every unique room has the whimsy of one an eclectic mix of celebrated literary figures.
Almost anyone can find a writer and/or room to suit them. I recommend the Edgar Allen Poe room, unless you scare easy, it has a pendulum over the bed, a ominous raven in one corner and a closet that leads to the blood chilling brick wall from "A Cask of Amontillado." Not recommended for those who scare easy. There are 23 alternatives at three different price tiers. Bring the kids and stay at the Dr. Sues or E.B. White.
All rooms are meticulously decorated to set the theme of the writer they represent, some feel like places where the writer might have hung out. All of the furniture seems like restored antiques and the beds are big and plush. Every room has a typewriter. The building's still in good shape, but looks like it must be very old.
The sumptuous "classics" have decks and fireplaces and run $183 USD, the cozy ocean viewed "Best-sellers" range from $131-94 USD, and the quaint "Novels" go for 68-94 depending on the season. Plus for budget travelers there is a hostel style room full of bunks that go for about 20 dollars a head.
Essential activities while staying here include: walks on the Nye beach front, tea in the library, and dinner at the tables of content restaurant, which is attached. Ice breaking two-truths and a lie games keep conversation running wild over an elegant home-made 4-course family style dinner with a variety of entree choices.
Breakfast is served in the same hall with a variety of options and some thoughtful gourmet twists. If you love books, stories or yarns you will feel at home at this ocean front marvel. It seems like anyone who appreciates the quaint enough to be interested in bed-and-breakfasts will love this place. Your love for literature will only make the obsession worse.
From journal Bed & Breakfasts of Oregon