Maui, Hawaii
1059 views ~ 04 April 2012
14 favorites
Featured WEEKEND PHOTOGRAPHER ~ 20 Jan 2010
Featured in "More Animal Friends" of #1 ARTISTS OF RED BUBBLE on 29 March 2010
The Peacocks at The Garden of Eden, on the road to Hana are gorgeous and wander the grounds freely. You can buy food to feed them and they have become very tame. I think I could have reached out and touched this one, he came so close.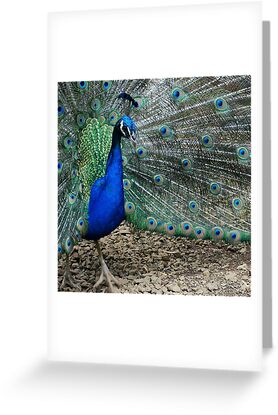 The significance of Peacocks;
(Wikipedia)
In general, the Peacock is representative of glory, immortality, royalty, and incorruptibility. It is a possessor of some of the most admired human characteristics, and is a symbol of integrity and the beauty that can be achieved when we endeavor to better ourselves and better our lives.
In history, myth, legend & lore, the peacock is considered an emblem of protection, nobility, watchfulness, guiddance, and holiness.
In Greco-Roman mythology the Peacock is identified with Hera (Juno) who created the peacock from Argus whose hundred eyes (seen on the tail feathers of the peacock)symbolize the vault of heaven and the "eyes" of the stars.
In Christianity the peacock represents the "all-seeing" church and the holiness & sancitiy associated with it. Additionally, the peacock reprsents resurrection, renewal and immortality within the spiritual teachings of Christianity.
In Hinduism the peacock is associated with Lakshmi who is a deity representing benevolence, patience, kindness, compassion and luck.
Similar to Lakshmi, the peacock is associated with Kwan-yin in Japan – she is also an emblem of love, compassionate watchfulness, good-will, nurturing, and kind-heartedness. Kwan-yin chose to remain a mortal even though she could be immortal because she wished to stay behind and aid humanity in their spiritual evolution.
In Babylonia and Persia the peacock is seen as a guardian to royalty, and is often seen in engravings on the thrones of royalty.