Tulip Town in Skagit Valley, Washington state
1510 views ~ 30 favorites ~ 04 April 2012
Sold not cards ~ A favorite card sold, but not here on the Bubble.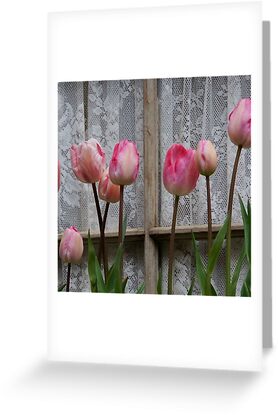 Sold in my calendars ~ 2011
LaConner, Washington ~ Last week in April
What says "cottage" more than tulips and lace? I loved seeing this and it has become an all time favorite for me. I hope you are feeling the same. I took this photo at Tuliptown, one of the tulip farms that takes part in the Skagit Valley Tulip Festival. You can find out more about it here;
http://www.tulipfestival.org/
Featured HAPPY HAVEN PHOTOGRAPHY group~1 April 2009
Winning image in "Tulips and something else" challenge of TULIPS group ~ 1 October 2009
I am featured member for the Tulips group this first week of October.
Avatar for the TULIPS group October 2009
Second place in "Lace Curtains" challenge of COTTAGE STYLE group ~ 25 October 2009
Featured in COTTAGE STYLE ~ 11 NOV 2009
First place winner in "Windows with Lace Curtains" challenge in WINDOWS AND DOORS group ~ 31 January 2010

The tulip was introduced to Europe in the mid-16th century from the Ottoman Empire, and became very popular in the United Provinces (now the Netherlands). Tulip cultivation in the United Provinces is generally thought to have started in earnest around 1593 after the Flemish botanist Charles de l'Écluse had taken up a post at the University of Leiden and established the hortus academicus. There, he planted his collection of tulip bulbs—sent to him from Turkey by the Emperor's (Ferdinand I, Holy Roman Emperor) ambassador to the Sultan, Ogier de Busbecq—which were able to tolerate the harsher conditions of the Low Countries, and it was shortly thereafter they began to grow in popularity.
The flower rapidly became a coveted luxury item and a status symbol, and a profusion of varieties followed. They were classified in groups; one-coloured tulips of red, yellow, or white were known as Couleren, but it was the multicoloured Rosen (red or pink on white background), Violetten (purple or lilac on white background), and, to a lesser extent, the Bizarden (red, brown or purple on yellow background) that were the most popular. These spectacular and highly sought-after tulip bulbs would grow flowers with vivid colors, lines, and flames on the petals, as a result, it is now understood, of being infected with a tulip-specific virus known as the "Tulip breaking virus", a type of mosaic virus.
(Excerpt from WIKIPEDIA)
All the images and text contained herein may not be reproduced, copied, edited, published, transmitted or uploaded in any way without my express written permission. My images do not belong to the Public Domain. The removal of electronic copyright information, digital fingerprints, or embedded watermarks on any image is strictly prohibited.
© 2005 Marjorie Wallace, All Rights Reserved Worldwide.