Bella, my little Princess ~ Olympia, Washington


2552 views ~ 05 Feb 2012
26 Favorites
Bella is an intelligent and loving little girl. When I found her at our local animal rescue, she was less than a year old and had one very weak little baby. She had been found living out in the woods , was very underweight and in very sad shape. The minute I saw her, she looked straight in my eyes, so I asked the attendant if I could hold her. She simply relaxed in my arms, started purring. and our two hearts sang together that blissful morning. An hour later, we were on our way home. She has proven to be the most wonderful house cat who will be my alarm clock if I am not up by 6AM. She will start nibbling on my arm and nuzzling me to get up and face the day. Also, she will scold the other cats if they are found scratching the furniture and is always so polite when she is fed. She will not start eating until I put the food in front of her and stroke her back. All of this is amazing to me since she was living out in the wild as if she were ferrel,
Most likely, she would be classified as a Traditional Siamese or an Applehead Siamese and she has the quietest little meow. Also, her fur has darkened so much and feels as if it is a rich and luxurious satin. She brings me joy every single day and is my little soul mate..
Camera; Nikon D200
Lens; AR-S NIKKOR 18-55 mm
"BELLA MY PRINCESS"
Featured in DOMESTIC/ PEDIGREE CATS ~ December 2008
Featured in SOUL MATES group ~ 20 January 2009
Featured in KAIROS-CAPTURING THE DECISIVE MOMENT on
20 January 2009
Featured in CATS AND DOGS group 13 March 2009
Featured in PEACE, LOVE & TRANQUILITY 13 March 2009
First place winner in the 'Siamese Cat' challenge in DOMESTIC AND PEDIGREE CATS group on 5 August 2009.
Featured in DOMESTIC ~ PEDIGREE CATS ~ 6 August 2009
Featured in YOU'RE ACCEPTED group ~ 25 Feb 2010
Avatar for "Cats at Home" challenge in YOUR LIVING SPACES group April 2010
Featured in PATS PAJAMAS group ~ 19 March 2011
Featured in TABBYTIME CATS AND TYHEIR FELINE FRIENDS ~ 28 May 2011


"To some people, homeless cats are of little value. But to those who are not quite so blind, they are not only precious lives, but also very special beings, blessed with the ability to touch our imagination and lead us into a world of true magic and wonder." ~ Michael Mountain, President , Best Friends Animal Society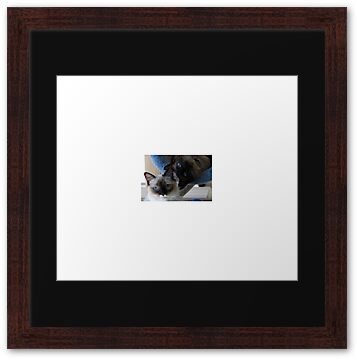 Bella and Murphy are best friends. Every morning after they have had their breakfast, they will sit and groom themsellves as contented cats often do. Then you will find them wresting about on the floor or turning the house into a race track, running from one end to the other. Naps together are their afternoon pastime, as they contentedly find a spot to have their long daily snooze..
The Siamese is considered by many to be a "natural" breed – one that developed without the intervention of man. Pictures of seal-point Siamese cats appear in the manuscript "Cat-Book Poems", written in Siam (now Thailand) sometime between 1350 and 1700.
There are a great many legends regarding the origin of the breed – especially the crossed eyes and kinked tails. According to some of the legends, the Siamese cat guarded Buddhist temples and was considered sacred – and was only kept by priests and royalty.
The first Siamese cats appeared in the West in the mid-to-late 1800s. Though initially described as "an unnatural, nightmare kind of cat", they quickly became popular with fanciers, even though these early cats were delicate and subject to health problems. These first cats had crossed eyes and kinked tails, characteristics which are now considered faults, and have almost completely disappeared as a result of careful breeding. Photographs from the late 1880s of some of the first cats to be imported from Siam show the thick, round heads and solid, muscular bodies that distinguish the Traditional Siamese from today's show Siamese.
Bella and Murphy, best friends!

As the Siamese breed has developed over the years, some breeders have preferred the rounder look, while others have preferred a slender look with a wedge-shaped head. During the 1950s and 1960s, the differences became even more pronounced: show breeders developed an extremely slender cat with a very long, triangular head, almond-shaped eyes, and flaring ears. This look caught on with show-oriented Siamese breeders and with judges. Other breeders, who did not like the new look, continued to breed the larger, round-headed cats. These "Traditional" breeders found that their cats were no longer competitive in the show ring and stopped showing. A great many also stopped registering their cats, though they continued their breeding programs with their existing purebred Siamese stock.
Today, Traditional Siamese cats are somewhat rare, though they seem to be making a comeback, as the breed is popular with pet buyers.
It should be pointed out that Traditional Siamese are purebred cats, descended from the original cats imported from Siam. A pointed cat that you find in the shelter, though it may look Siamese, is probably not a Traditional Siamese cat. Enough purebred Siamese cats have interbred with domestic cats over the years that the gene which creates the pointing pattern is found in a large number of cats, and some may look Siamese when in fact they have very little Siamese blood in them.

All the images and text contained herein may not be reproduced, copied, edited, published, transmitted or uploaded in any way without my express written permission. My images do not belong to the Public Domain. The removal of electronic copyright information, digital fingerprints, or embedded watermarks on any image is strictly prohibited.
© 2008 Marjorie Wallace, All Rights Reserved Worldwide.