Still life arranged and photographed at my home.
Shells and mementos I have brought back from Maui from my trips in the 90's. Hawaii will always hold magic for me and as I was composing this shot, my mind traveled back in time to those magical days that we visited those lovely tropical islands. There will always be that longing in my heart to return, but I also know that I love living where I have lived my whole life, embracing the changing of the seasons and all of the surprises that holds in store. Trips to the islands are always cherished memories and these old treasures will always hold a special place in my heart.
Featured SEASHELLS group January 2009
Featured COLLECTORS CORNER Jan 2009
Featured EXPRESS YOURSELF ~ 18 Jan 2010
Featured PEACE, LOVE AND TRANQUILITY ~ 19 Jan 2010
Featured TROPICAL ART ~ 16 February 2010
Featured BETWEEN VIOLET AND CRIMSON ~ 18 Feb 2010

Native Hawaiian tradition gives the origin of the island's name in the legend of Hawaiʻiloa, the Polynesian navigator credited with discovery of the Hawaiian Islands. The story goes that he named the island of Maui after his son who in turn was named for the demigod Māui. The Island of Maui is also called the "Valley Isle" for the large isthmus between its northwestern and southeastern volcanoes.
(Except from Wikipedia)
On the island of Maui, mornings of birdsong swell into days of pure exhilaration. From staggering natural beauty to one-of-a-kind adventures, Maui is a magical, tropical playground like no other.
Indeed, Maui is everything you have dreamed Hawaii to be, and almost certainly more than you imagined. Palm-shaded, powdery beaches and lush rainforests… Eclectic small towns and world-famous enclaves… Exclusive, world-class resorts and gem-like B&B's. It's all here.
But more importantly, Maui is home to a unique spirit. You will recognize it in the natural smiles that greet you daily, and you will feel its presence long after you depart.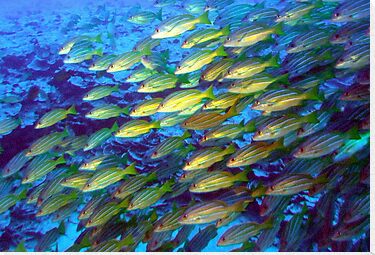 While I was on Maui March 2007, I went on a trip in the Atlantis submarine tour off Lahaina, down so deep and where most of the colour spectrum is gone. Most of the red color will be gone at 10 feet, orange is gone at 25 feet and yellow is gone at 35 feet leaving only blue and aqua. The lights on the hull of the submarine restore the colours, so this is why you see the bright and vivid colours of the fish, but towards the outside of the photo you will only see blue.

Often called the "jewel in the crown of Maui," Lahaina is a destination that is experienced by two million people, or 83% of all Maui visitors, annually. Lahaina town is the second most visited spot on Maui after beaches. We warmly welcome you to visit our historic town, which is nestled between the calm waters of the Auau Channel facing Lana'i island and the fertile peaks and valleys of Mauna Kahalawai (West Maui mountain range). Lahaina has provided a home for many cultures over the centuries, always welcoming visitors to its inviting shores.
When the first Polynesian settlers arrived at these shores well over a thousand years ago, Lahaina offered them abundant freshwater streams, verdant valleys with fertile volcanic soil, warm, sunny days and a pristine, bountiful sea. Even today, much of this can still be said of Lahaina. Steeped in a history which consistently documents its progress from one era to another, Lahaina has retained a flavor of each to this day. Over 18,000 full-time residents call Lahaina home. Our challenge, as the caretakers of this legacy, is to continue to support compatible tourism while protecting Lahaina's unique cultural and natural resources, and to sustain the viability of our community.