Dedicated to all lovers of adorable kittens
Murphy was the only one of my cats who loved this toy, I do not know if it was because he was just a kitten or if it was because he was a boy. But I do know that we had a lot of fun watching him play with this Santa's cap.
Six cards sold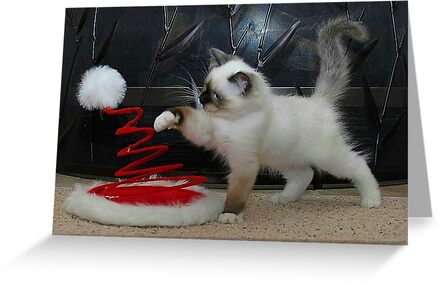 Sold two postcards 12 July 2012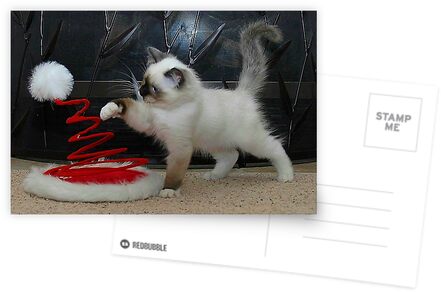 Sold in calendars ~ 2011
Featured in 10 groups
"Santa's Helper" won the challenge for the December 2008 Avatar for the DOMESTIC AND PEDIGREE CAT group. CHALLENGE WINNER
This was in top ten in the challenge, "The Holiday Cat" in the FOR THE LOVE OF CATS group.
Top ten in challenge "Playtime" for KITTENS group ~ 18 April 2009
Featured in KITTENS group ~ 20 April 2009
Top Ten winner in "Design a Christmas Card" challenge in PETS ARE US group ~Nov 2009
Third place in "Things that make you laugh" challenge in CEE'S FUN AND ARTSY FRIENDS ~Nov 24 2009
In Top Ten "Design a Christmas Card" challenge in PETS ARE US group ~25 Nov 2009
In top ten of "Holiday Greetings" of COUNTRY BUMKIN group ~ 27 Nov 2009
Placed in Top Ten of "Cats at Play" challenge of YOU'RE ACCEPTED group ~November 2009

Featured in HATS AND HATBOXES ~ 20 June 2010

Featured ALL SOFT AND CUDDLIES 03 Dec 2010
Featured in PETS ARE US ~ 13 DEC 2010

GREEN HEART AWARD ~ 20 Dec 2010
2nd place in Bubblers featured challenge ~ 07 Jan 2011
Featured in #1 Artist of RED BUBBLE ~ 10 Jan 2011
Featured ALL CREATURES GREAT ! SMALL 07 Feb 2011


Featured in the "Permanent Feature Page of CAT'S PAJAMAS ~ 18 April 2011


Feature in CAT'S PAJAMAS 18 April 2011


Featured in IMAGES OF ENDEARMENT ~ 11 May 2011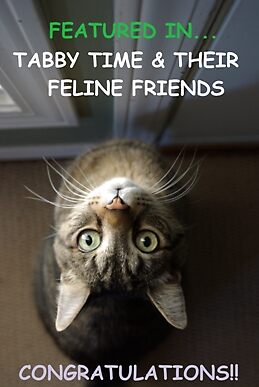 Feature in TABBY TIME & THEIR FELINE FRIENDS group ~ 12 May 2011


03 July 2011



All the images and text contained herein may not be reproduced, copied, edited, published, transmitted or uploaded in any way without my express written permission. My images do not belong to the Public Domain. The removal of electronic copyright information, digital fingerprints, or embedded watermarks on any image is strictly prohibited.
© 2007 Marjorie Wallace, All Rights Reserved Worldwide.