Alex Gardiner invites you into his world.
Check out my new website;click here"New Website":http://www.bluemountainsafricanvioletsaus.com
My poums on Fanstory listen to them
*Ma ain wee dug Molly sends yea this wee poum tae let yea aw ken that it's the wee things in life that gei's the maist pleasure. Wink Wink:)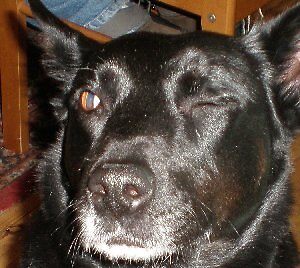 *Oh tae be a dug noo that spring is here,
oh tae be ootside an' huv nae fear,
Tae be smellin' aroon the bonny trees,
an' cock ma leg higher than ma knees.
Oh sic pleasure, oh sic relief fur me,
oh sic pleasure in wan wee luvly pee,
Oh tae be a dug that spring is nigh,
an' go aboot ma business wae a silent sigh.
Smell the trees an' uther dugs,
gie a wee sniff instead o' hugs,
oh it's heaven bein' jist a dug in spring,
fur tae smell the smells that ither dugs bring.
Ma names Molly an' a dinny dae the leg bit,
aw a hivtae dae ;………Is sit. :)
The Auld Yin.
Sadly our Molly has passed away; may she RIP.
I made this reply some time ago in answer to comment. I thought it should be aired again.
Everyone has great talents some are recognized others are never noticed; even the humble and beautiful animals on this earth have the greatest of talents; they are there for us to love and admire and to be thankful.
To be thankful for their innocence;…. The greatest of all talents.
The Auld Yin*.
Until one has loved an animal, a part of one's soul remains unawakened.
Anatole France .
My poums on Fanstory listen to them
126 "T" Shirts to choose from.
If you get blank pages when viewing these books it most likely is that your download speed is too slow.
Coming soon. Hamish an' ither Haggis. About Haggisies frae aw o'er the wurld an' their mooth waaterin' recipes.


Click here to view book

Just published Wurds an' poums frae ma wee brain
My poums on Fanstory listen to them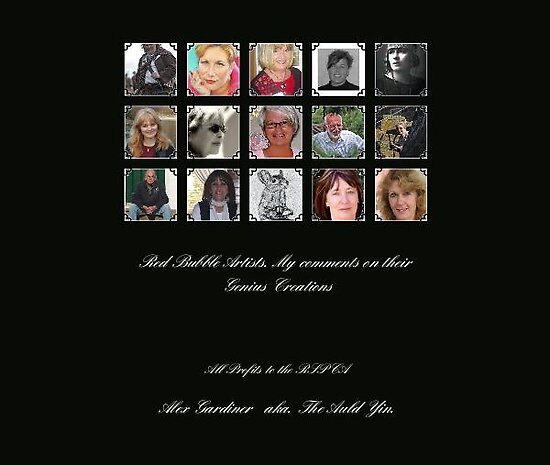 Click on the link below to view all 120 pages of this book.
Just published Red Bubble Artists. My comments on their Genius Creations
Please view full screen. The book in real life is 13 inches by 11 inches which is most likely larger than what you view on your screen so allow for the smaller images and text in this demonstration.
Remember when on the Blurb site click full screen at the bottom right of your screen.
Have a look at this Bonny Lass's Website.


Linda Callaghan's Website
Click here tae see Ma portrait by Karen Hull
The links below are of sum o' ma freends here oan Rid Bubble and are well worth the looking at. Other links below in the Karen Hull Trophy Section.
Karen Hull
Lynda Robinson
Sheila Laurens
Sheila,aka artwhiz47
Rebecca Weston
Lee-anne Carver
Sandy Stewart
Mike,aka mikeoxley
Don, aka DonDavieUK
Robin, aka Robin Brown
Chris,aka Chris Clark
Josie, aka :Josie Jackson
Hidema, aka Hidema Tada
Sharon, aka SharonD
Bridie, aka Bridie Flanagan
Diana.aka Diana-Lee Saville
Bobby aka Bobby Dar
DilettantO aka Dilettanto
Jason aka Jason D. Laderoute

Ma' wee wife made me tak' of ma' hat and ma' sun glesses
and show ma' auld keekers. Jings whit a sicht. Whit dae yea think noo Joak? A' feel nakid- a' doo.Didna' like ma last picture either this wan is a pastel by that genius lass karen Hull a couple of months ago. Am no vain is jist that at ma' age yiv jist goat tay look yer best way whit yiv goat .Am always tryin tay day that .A put the date oan cos a didna' want yea tay think this was done when a' wis 19. :(
P.s. An' that's no snaw oan top o' ma' heid either, that's jist whit happens tae yer hair when yea get auld. That's why joak calls me "the Auld Yin."Sounds antique and suffusticated might jist use it as ma' nick name.
Bobby Dar.


If your Avatar is not in the Animation above and you are on my Watchlist please let me know.

Ist Karen Hull Award to Karen Hull.For beautful pencil potraits.Karen Hull
2nd Karen Hull Award to Adgray. For her beautiful writing.Adgray
3rd Karen Hull Award to joak for being what he is. joak
4th Karen Hull Award to Wee cathy for all her amazing works of watercolour.katymcKay
5th Karen Hull Award to Linda for her colour and amazing imagination. Linda
6th Karen Hull Award to Val for her simply amazing creative work ValzArt
7th Karen Hull Award to Brenda everything she does enhances Red Bubble and encourages all, above and beyond description.Brenda Dow
8th Karen Hull Award to Nori for unbelivable creations"Nori Bucci":http://www.redbubble.com/people/nori8
9th Karen Hull Award to Rebecca Weston for beautiful meaningful words. Rebecca Weston
10th Karen Hull Award to Akkra for beautiful meaningful comments on others Art. Akkra
This award is for a single posting by almaalice for His Masters's voice
This award is for a single posting by Val.A simply beautiful piece of work.Vals pony
This award is for a single posting by Sheila (artwhiz47) .A simply Brammer Photie. 'Hats Wha Hae'
This award is for a single posting by Wee cathy katymckay Oor Mikey's Cossy !!!!!
My poums on Fanstory listen to them
I am situated in the beautiful Blue Mountains of New South Wales, Australia. I create my sculptures in the scenic town of Bullaburra which is at an altitude of 2,500 feet, between Penrith and the famous tourist town of Katoomba. I hope you enjoy my passion for sculpting and collecting all types of exciting Animal sculptures.
My Sculptures are created with love, care and imagination. I hope this is not a selfish endeavour for such passion can be shared by all. I have in the past concentrated on Australian Native Animal Sculptures. Now I have ventured into all manner of animals the larger of which which I have turned into Table Lamps. All my Animals are first sculptured in fine clay.They are then carefully moulded and cast in Hydrostone. Finally they are Air brushed and coated in a clear non discolouring varnish. By casting in Hydrostone they keep the exact detail first achieved in the fine clay. Hydrostone is the oldest of all the Gypsums, over one million years in its formation.
The beginning of an idea is my first step in producing a new sculpture.The following step is a must and that is enthusiasm. Without enthusiasm it is a no go.
Next I research the subject I am going to sculpt. Photographs of a live subject taken from all angles but from an equal distance are necessary , or I research my subject on the internet and download as many photographs of the same subject from different locations as I can . I must scale my subject carefully as this will make it easier for me to quickly form a likeness of it and therefore save loads of time.
I measure across the head, depth of the head, body length, body width, length of tail, size of eyes, and angle of eyes, etc. I digest all this information over a reasonable length of time as the more I see my subject in my mind's eye, the better and easier it will be for me to create it. I "chew the fat" over the subject for a few weeks before going ahead with my sculpture. This makes the task easier and more enjoyable when I do not have to constantly refer to photographs.
Wan day a lang time ago a wee bairn pixie wis born in Grangemooth Scoatland. He loved the ootdoor life and wis always in his auld folks gairden. He wid' romp aboot the place like a wild yin an' he didna wear ony clays ,cos it restricted his freedom. Except fur a wee leather hat. This wee bairn pixie stayed as a wee bairn pixie fur hundreds o' years an' years untull his wee heid couldna' take in ony mair knowledge. Sumthin' hud tay be dun so his folks hud tay release him intae human society,an' that's the day he wis born intae the human's way o' livin'.He couldna' stie a wee fella' like when he wis a pixie so he startid' tae grow up and grow up an' grow up an' he didna stoap growin' tull he was a big sook o' a man way funny legs and a big fat erse. An' that's the big yin taday the wan we a' luv an' respect.
We a' ken whit he looks like taday so a thocht a' wid day a wee sculpture tay show yea whit he looked like then. Never hiv' yea seen a bonnier wee pixie bairn in a' yer collective lives here oan Red Bubble. So it's way great intrepidation a post this wee sculptur o' this now famous big sook,joak.
A' hope a' no offen you big Yin.It's jist tay let yea ken whit a' think o' you efter a' oor great bletherin's.
My poums on Fanstory listen to them
Alex Gardiner invites you into his world
The Auld Yin.
Scottish
CLICK HERE