David Caplowe in a Lotus Formula 1 car during the Masters 1966-1985 Grand Prix Cars race, Silverstone Classic, 23rd/24th/25th July 2010.
Initially covering the period between 1968 to 1978 (arrival of the 3 litre Cosworth up to the start of the 'Ground Effect' era), last season Masters extended the period to include the final days of the non turbo era between 1983 & 85.
Masters website
The Lotus 87, driven by Nigel Mansell and Elio deAngelis, was raced in the second half of the 1981 season and the first 2 races of 1982 and was the car built after the FIA banned the moveable side "skirts" associated with Ground Effect and prior to the introduction of the twin chassis Lotus 88 that circumvented that rule.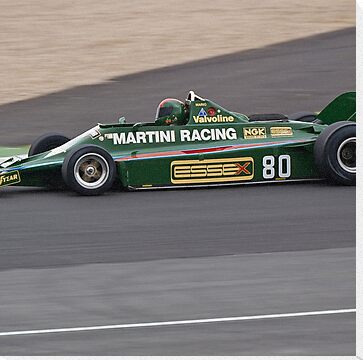 1979 Lotus 80