A non-breeding pair of black footed albatrosses dances an intricate courtship pas de deux on a sandy ridge at sunset. Black footed albatrosses perform such a lovely, intricate dance filled with languid wing extensions, standing on their tippy toed webbed feet, and calling or bill clacking with abandon. It is a performance that one never forgets, truly one of the most beautiful of all species of albatrosses' courtship dances.
I created a short video of the black footed albatrosses dancing on this sunset ridge that can be viewed below. I find it mesmerizing to gaze on the silhouetted forms of this elegant pair as they perform their joyous courtship dance and hope you will, too.
While I would prefer to have included the birds' calls, whistles, bill clacks and brays in the video, unfortunately a stiff wind kept booming in the camera microphone. However, the music suits this pair perfectly for surely "when they dance, angels will run and hide their wings."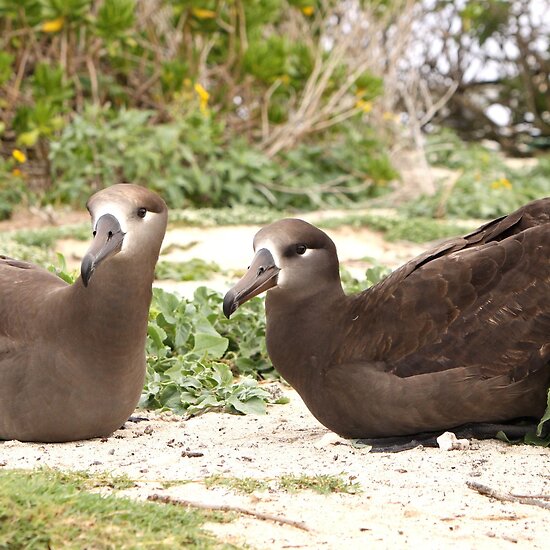 A non-breeding black footed albatross pair on Sand Island, Midway Atoll.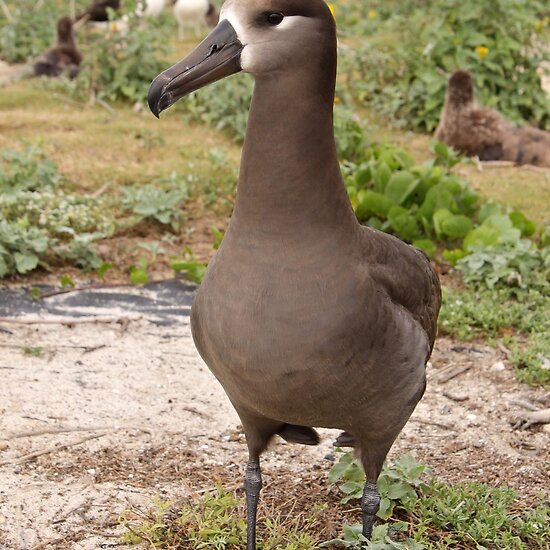 Here one can obtain a good look at why the black footed albatross attained its name. Those feet are jet black!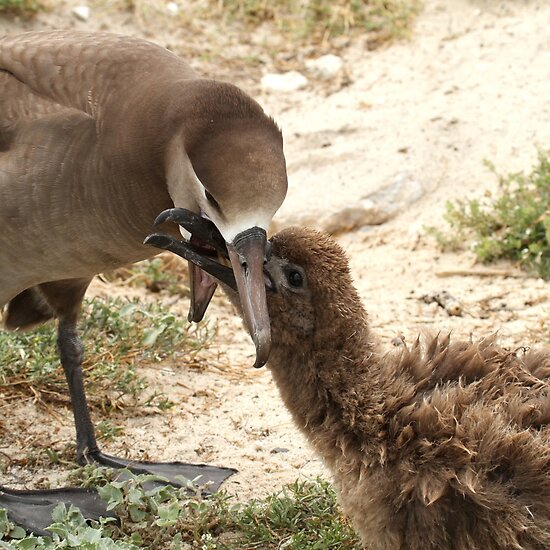 A busy black footed albatross parent regurgitates a nutritious, calorie-laden meal to its hungry chick.
The non-breeding albatross adults have no such responsibilities so are able to dance and court each other with abandon.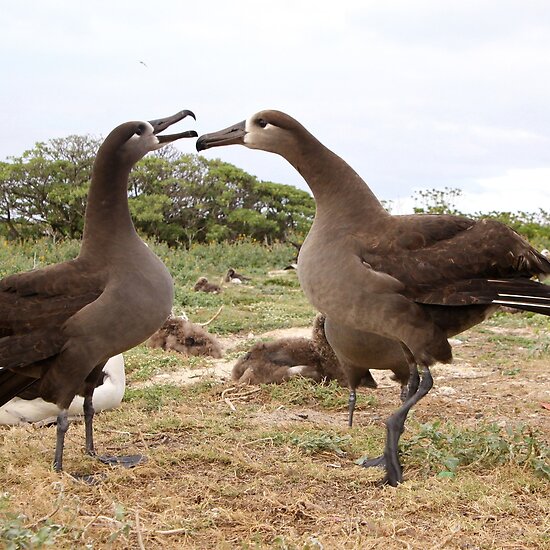 A non-breeding dancing black footed albatross duo is oblivious to all but each other.
The black footed albatross is listed as Endangered by the IUCN Red List.

A video tribute to Midway Atoll and its wildlife by Gina Ruttle (Whalegeek)
Still photography by Gina and Mark Ruttle
Sand Island, Midway Atoll National Wildlife Refuge, Northwestern Hawaiian Islands, Papahanaumokuakea Marine National Monument, Territory of the United States of America
Canon 7D, Canon 100-400mm lens, Manfrotto tripod, Wimberley II tripod head, shutter 1/4000, f/11.0, aperture priority, slight saturation of color plus darkening in iPhoto, exposure bias -0.33, focal length 340, ISO 400
May 9, 2010
Views: 450 (April 10, 2011)
Favorites: 28 (April 10, 2011)
Featured:
Polynesian Connection
Around The World
300+ Go Long
Hawaii
Artists of RedBubble
One, Two, Three…
BIrds! Birds! Birds!