An Inukshuk ("likeness of people" in Inuktitut) on the shoreline of Hudson Bay in Manitoba, Canada. Stone Inukshuks have been constructed for eons by the Inuit in far northern arctic latitudes. Inukshuks were frequently used to designate direction; some have 'arms' longer on one side to point the correct path toward a distant village on the featureless arctic tundra. Still other Inukshuks designated a food cache, trails, or hunting grounds, all of which were crucially important to arctic dwellers.
This particular Inukshuk stands in sub-arctic Churchill, Manitoba, Canada along the coastline of Hudson Bay.
As dusk took over from this long lasting arctic summertime sunset over Hudson Bay, beluga whales fed on capelin (an oily bait fish) in the frigid water just off the beach amidst ice floes. All was silent other than for the cries of seabirds intermingled with whale breaths. I guess this sums up why I love the arctic.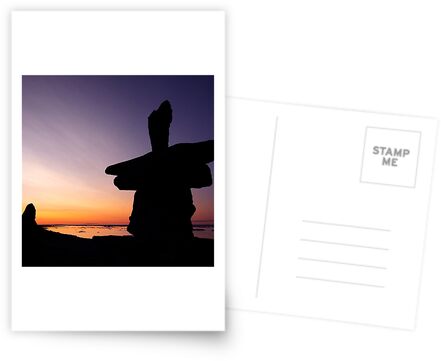 Canon 50D, Canon 10-22mm lens, shutter 1/200, f/10.0, exposure bias -1.33, focal length 17mm, ISO 400.
Churchill, Manitoba, Canada
July 12, 2009
Views: 305 (as of September 4, 2010)
Featured in:
Dimensions
Canada Group
Sensational Sun
The Woman Photographer
Image Writing Group
For The Love Of Canon