Views:
1561 (as of December 13, 2011)
Favorites:
83 (as of December 13, 2011)
A protective mama alligator with a baby on her head is signaling to NOT come any closer. Photographed from a kayak in a marsh area of the Everglades National Park's Turner River near Everglades City, Florida, USA.
Mother alligators shepherd their babies carefully. One alligator I saw had seven tiny alligator youngsters on her body or limbs!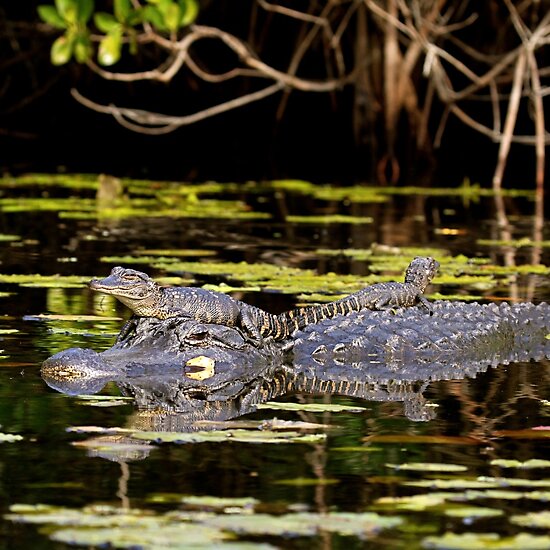 A full body image of Mama Alligator…look closely at Mama's back behind the baby on her head and you will see another baby sitting on her back looking in the opposite direction!

Another view at mother and her baby keeping a watchful eye on passersby.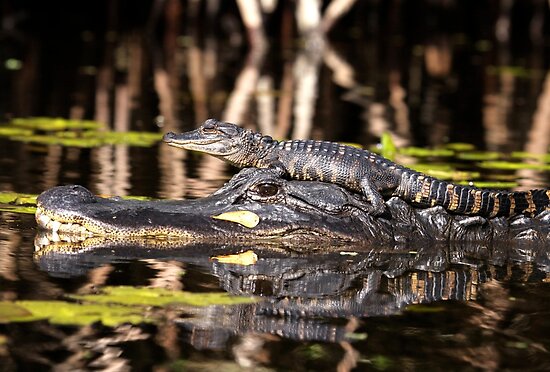 One more look at Mama and her baby
Turner River, The Everglades National Park, Florida, USA
February 3, 2009.
Photographed with a Canon 50D, 100-400mm f/4.5-5.6 L IS lens, shutter 1/1000, f 7.1, exposure bias -0.67, aperture priority exposure, focal length 235mm, ISO 400.
Featured:
300+ Go Long! Masters of the Telephoto
For the Love of Canon
Just Pure Nature
Florida the Sunshine State
Top Shelf Wildlife & Nature Art
All Around Florida
300+ Go Long! Masters of the Telephoto
Closeups In Nature, November 12, 2011
Animal Captions & Confessions, November 2011
Americas~Rural, Urban, WIld & Free, November 2011
Baby Animals Group, November 2011
Amazing Wildlife Group, November 2011
Tell Your Photo Story, December 2011