Welcome to Redbubble and to Ellen Hecht's Redbubble Portfolio.
My "Avatar" name on Redbubble is "Waddleudo."
This is how the porfolio is organized:
To the right are "folders" which are my work placed into categories. They include original photography as well as a folder for my writing. The writing includes fictional short stories.
The folders contain only some of my work. Below the folders on the right are all my current posted works in the order I posted them on Redbubble.
Just posted my 1000th image on Red Bubble (August, 2012) Woop-woop!

PHILOSOPHY: *WELCOME TO MY VIEW

Although photographers love to talk about chronicling society, It seems to me we all just have a child-like desire to shout out: *"HEY EVERYBODY! LOOK WHAT I JUST SAW!"

Since November, 2010, when I joined Redbubble, I have improved so much. Viewing literally thousands of excellent images on RB has given me a free photographic education!

I am also a writer. If you enjoy odd, short stories, I have included one of mine, below, entitled "Dear Beezer."

Short Stories
*I invite you to take a moment and enjoy one of my short stories. If you like it, look for more of them in my folder entitled, appropriately, "Selection of WRITING – SHORT STORIES."
-————————————————————————————————————
"DEAR BEEZER:

TO: Jimmy Beeson
San Quintin Prison

Dear Beezer:
Gully's flooded. Been raining five days all in a row. Can't go no place. Not much to do but help sand bag. Figured since they locked you up and you can't go no place neither, I'd sit down and write you like you said I should some time.
Is it okay if I call you Beezer, still? Would the other guys in there laugh or what?
Guess who I seen the other day? Pete Westerhouse. It was him, honest-to-God, just the other day, in Ambercrombie's, in town. Me and Ben, we seen him just standing there looking at the fuzzy toys. I just walk up to him and I says, "I can't believe its Ol' Westerhouse. Pete!" I says, "Its me, Margaret Trumble and my brother, Ben. You remember Ben." He didn't say a damn word. He just looked at us with that look, with the one lazy eye, you know? I took a good look back and you know what? He does look like my sister's first kid. But don't you worry. The second one's yours for sure. My Daddy was saying just the other day how it'd been a long time since we seen Pete Westerhouse sniffing around, and there he was, big as life, in Ambercrombie's in town. Wonder why he come back.
Just after we seen Pete, Angela went. She took both kids and said she was going all the way to Hollywood or maybe Montana. Can't see why she'd want to go to Hollywood. Montana don't sound so bad. It's awful here without her. She told me I should say "Hey" when you come home. That might not be for a while. So "Hey." Maybe I'll leave here too. Sometime I will.
You know what? Last Sunday at the County Swap, I found a painting. It's this pit bull painted on velvet and he's wearing a clown outfit. Seems I remember Angela had one just like it and it was you give it to her. I used to stare at it for hours. Wonder where it went? Gosh, can you believe the artist painted two, and I'd come up on the other one? Didn't think I'd ever get that lucky. What are the odds of a thing like that? And there it was, at the County Swap. Ain't life strange?
The carnival is in town. Ever notice the guys who run the Ferris wheel all have teeth missing? Must be they was hockey players before or I don't know. Wonder how they lost their teeth. Too much cotton candy maybe. Still, it must be a great job. You get to be at the carnival all the time. I bet you get to keep all the change that falls out of the people's pockets. I wouldn't mind working for the carnival. You get to travel all around. I might even drop by and visit you, I mean, if they'd let me and if I got a job with the carnival and it went where they got you at.
The carnival being in town reminds me of my Uncle Isaac. Before the Greyhound run him over, my Uncle Isaac worked for the Circus. It was him who would sell tickets to the Elks and Kiwanis every time the circus come to town. The year I was thirteen, Uncle Isaac showed up at my ma's house. He brought a six pack of Coca Cola, and every morning he drunk cokes for breakfast. He brought me a poodle made out of balloons. After he left, I went berserk and tore it to bits. You shouldn't give nobody but a little child a balloon animal. Hell, I was already thirteen. Guess I didn't look like a woman yet. Ben says I sure look like one now. I got on one of Angela's old dresses and I fill it up fine.
Do you remember the summer you dropped a brick on my big toe and it turned all colors and the nail fell off? Well, it grew back funny. So thanks a lot. Ha ha.
You said if I wrote, you'd write back in a hurry. You ever getting out? I heard my Ma talking about you being in prison and all and she said "They're gonna throw away the key." What in the world does that mean do you think?
Still your pal,
Margaret

P.S. Nobody ever asked me, but I believe that Chinese laundry burnt down by itself without no help at all.*

The End.

"Windmills Noir" (image below)Featured and Editor's Choice in"The World as We See it or as we missed it" Group.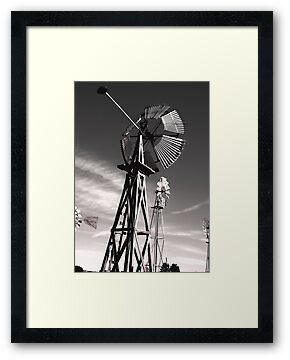 "Mule Man. Mail Man or Marlboro Man?" (image below)

Going for humor here, the cloud whisp could be the trailing smoke of this cowboy's cigarette . . . (even though he told his wife that he'd quit!).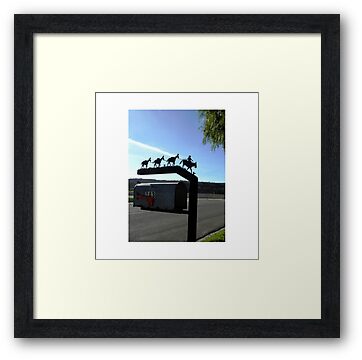 "Heavens Above!" (Image below.)

Once again, a silhouette – and in the same way a woman adorns herself with accessories, I looked for drama in the sky, storm clouds with the sun illuminating their edges to accessorize the outline of this old church.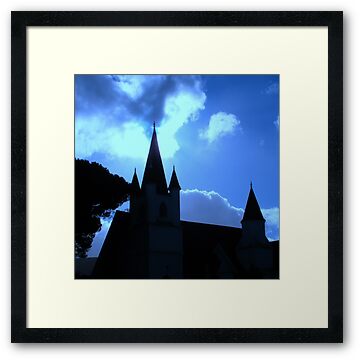 AWARD: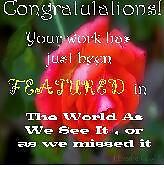 "Church Spires" (image below)I also love color! Don't you?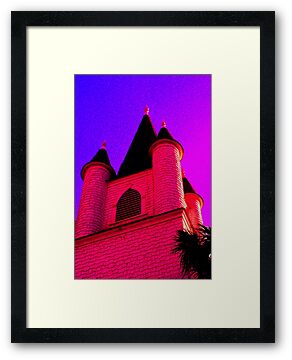 Most of my work is available as greeting cards, some as prints and some matted and framed and ready to put up over your mantle or desk!
Greeting Card: "Wouldn't You Like to Be One Too?" (A Pepper, that is!)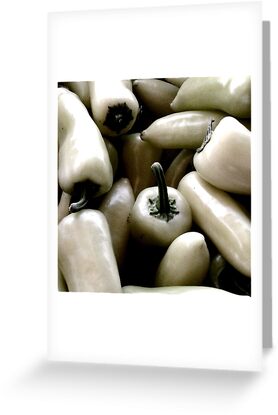 BRAGGING RIGHTS / AWARDS:
As of 11/10 when I joined redbubble, my images were awarded a Feature in the following groups:
Alphabet Soup
Four Letter Word
ANGEL WINGS and HEAVEN
Unnoticed, Unseen and Undiscovered
The World As We See It …
A Bit Of Mail in the Box
Best from Around the Barnyard
Urbex
Contrasting Perceptions
Silhouettes
ALL ABOUT YOUR BEST WORK…
Rural Around The Globe
Caption Fun
The Human Condition ~
Cats and Dogs
"Tone It Down!"
Out of the Blue (75%+ Blue)
The Love Of Dachshunds
""MYSTERIES OF THE PAST & PRESENT
At The Market
Special Moments•
Flowers – Fruits – Berries…
It's in the details…
Fungilicious
I ♥ Patterns
Statues and Such•
Toy Dogs R Us!
Old and Abandoned Vehicles
Extremely Positive
The Tropical Zone
Pets Are Us ~ 2 per day
Ebony and Ivory (B&W ph…
Special Moments