This was the Red-Legged Partridge that kept waking us up very early in the morning on our recent Cairngoms Holiday in Scotland. I think it was calling from the garage roof in the hope of a response from its mate…the day before its mate had been caught by a sparrowhawk and although I disturbed them in mid battle and the sparrowhawk flew off,the mate was a bit worse for wear. Although it went off with its mate,we never saw it again…
Maybe it was sitting on eggs somewhere and he was proclaiming his ownership of a territory. I'd like to think that was the case.Anyhow,this one formed a relationship with our Tarn…see below.
Sony Alpha 350 DSLR Tamron 70-300 zoom,single RAW tonemapped in Photomatix.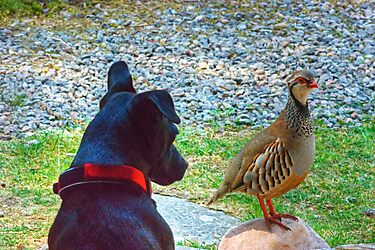 Latin name Alectoris rufa.Larger than the grey partridge, it has a large white chin and throat patch, bordered with black. It has a greyish body with bold black flank stripes, and a chestnut-sided tail. It is an introduced species, brought to the UK from continental Europe, where it is largely found in France and Spain.Most numerous in England, especially in the east, with some birds in the Welsh borders and in eastern Scotland. Usually seen in groups in open fields. Source RSPB