What you need to take a picture of the three witches of the unnamed play.
Dim light / Night / Dusk or Dawn
Camera capable of long exposures
Tripod
Pocket flashlight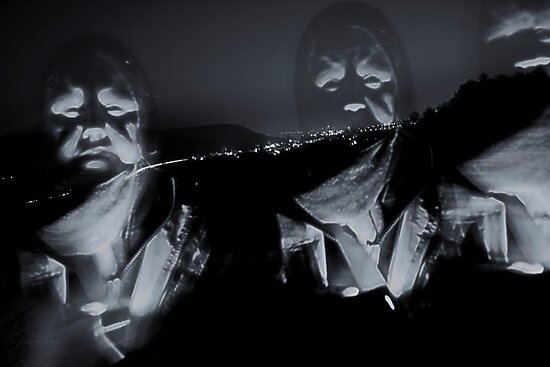 Find a spot with a nice background. Set the distance and exposure time manually. Exposure time depends on the surrounding light. I'm sure the proper exposure time can be calculated, me, I simply try a few settings. For this picture I had two trials before getting it right. I tried some more after that.
It happened approximately half an hour before dawn.
Exposure time 30 seconds
Aperture F5.6
ISO 100
I used a remote control to trigger the camera, if you don't have one the self-timer will do or use a model. Step in front of the camera flashlight off. Turn the light on, lightning your face and don't move a muscle and count silently "1 Mississippi 2 Mississippi 3 Mississippi 4 Mississippi 5 Mississippi", turn the light off, go one step to the side, turn the light back on, count 5 secs again, repeat once more. And you have three faint pictures in one.
It is a lot of fun.