Black Jaguar – (AKA – "Back Panther") Portrait
Canon EOS 30D DSLR; Canon 70-200 mm f/2.8 with 2X Ext.; focal length 400 mm; iso rating 800, f/5.6; 1/20 of sec., spot metering, tripod used, flash did not fire.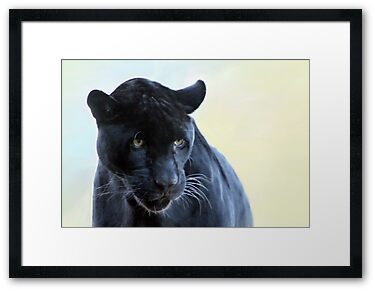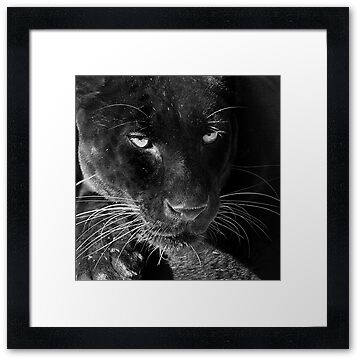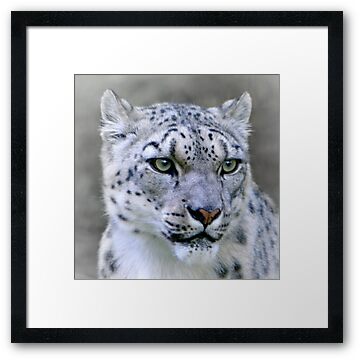 Cropped Version available as well: (Click on image)
A black panther is a large black cat. Black panthers are melanistic colour variants of several species of larger cat. Wild black panthers in Latin America are black jaguars (Panthera onca), in Asia and Africa black leopards (Panthera pardus), and in North America may be black jaguars or possibly black cougars (Puma concolor – although this has not been proven to have a black variant), or smaller cats.
Black panthers are also reported as cryptids in areas such as the United States, the United Kingdom and Australia, and for these (if they do exist) the species is not known. Captive black panthers may be black jaguars, or more commonly black leopards. Black panthers have sometimes been regarded as forming different species from their normally-colored relatives.
The name "panther" is often limited to the black variants of the species, but is also used to refer to those which are normally-colored for the species (tawny or spotted), or to white color variants: white panthers.
:
More interesting facts about the Jaguar:
(For Entertainment Purposes Only, can not substantiate these claims) – Excerpt from Wikipedia.com
Reports of black panthers in Australia
At the end of World War 2, United States soldiers re-stationed in Australia reportedly brought back black panthers as mascots. Within weeks of arriving in Australia, an unreported number of panthers escaped into the bush. Today, black panther sightings are frequently recorded in rural Victoria, New South Wales and Western Australia, and sightings are being recorded closer and closer to urban areas.[citation needed] It has been suggested that the panthers mated with feral domestic cats, although in fact the domestic cat cannot hybridise with any of the panther species. The Australian "phantom panthers" are said to be responsible for the disappearances and deaths of numerous cats, dogs and livestock.
In March 2003, Kenthurst teenager Luke Walker suffered deep cuts that he claims resulted from being attacked by a large cat in the driveway of his home at night. There have been numerous sightings from "credible witnesses" such as pilots and police officers as well as a compilation of over 600 reports. However, testimonials do not constitute reliable evidence.
Animal X Natural Mysteries Unit[clarification needed] lead an investigation into the phantom panther. They discovered that scats and hair found by locals and sent to a lab came back as dog scat which had feasted on swamp wallaby and hair that had come from a domestic cat. In an experiment, the Animal X team sent in leopard scat and hair collected from a private zoo. These samples came back with the same results.
Reports of "black panthers" in the United States:
In Florida, a few melanistic bobcats have been captured; these have also apparently been mistaken for panthers. Ulmer (1941) presents photographs and descriptions of two animals captured in Martin County in 1939 and 1940. In the photographs, they appear black, and one of the hunters called them black.
The Academy specimen, upon close examination, is far from black. The most heavily pigmented portions are the crown and dorsal area. In most lights these areas appear black, but at certain angles the dorsal strip has a decidedly mahogany tint. The mahogany coloring becomes lighter and richer on the sides. The underparts are lightest, being almost ferruginous in color. The chin, throat and cheeks are dark chocolate-brown, but the facial stripes can be seen clearly. The limbs are dark mahogany. In certain lights the typical spot-pattern of the Florida bobcat can be distinctly seen on the side, underparts and limbs. The Bronx Park animal appears darker and the spots are not visible, although the poor light in the quarantine cage may have been the reason.
Adult male bobcats are 28–47 inches (71–120 cm) long, with a short, bobbed tail, and are 18–24 inches (46–61 cm) tall at the shoulder. Females are slightly smaller. Florida panthers are 23–32 inches (58–81 cm) at the shoulder and 5–7 feet (1.5–2.1 m) long, including the tail. Bobcats weigh 16–30 pounds (7.3–14 kg) while Florida panthers are 50–150 pounds (23–68 kg).
Another possible explanation for black panther sightings is the jaguarundi, a cat very similar genetically to the cougar, which grows to around 30 inches (76 cm) long with an additional 20 inches (51 cm) of tail. Their coat occurs in a reddish-brown phase and a dark grey phase. While their acknowledged natural range ends in southern Texas, a small breeding population was introduced to Florida in the 1940s, and there are rumors of people breeding them as pets there as well. In Central America, they are known as relatively docile pets, as far as non-domesticated animals go. The male jaguarundi's home range can be up to 100 square kilometres (40 sq mi) while the female's home range can be up to 20 square kilometres (8 sq mi). It has been suggested that very small populations of jaguarundi, which rarely venture out of deep forests, are responsible for many or most of the supposed black cougar sightings. While they are significantly smaller than a cougar, differently colored, and much lower to the ground (many note a resemblance to the weasel), memory bias could explain many of the sightings in the southeastern U.S.
Another possibility would be the black jaguar which ranged into North America in historical memory. Melanistic jaguars are uncommon in nature and, significantly, jaguars in general were persecuted to near-extinction in the 1960s. Though they do not look exactly like cougars, they have the requisite size; it is conceivable that there could be a breeding population hidden in, for example, the Louisiana bayou. The jaguar has had several (photographically) confirmed, and many unconfirmed, sightings in Arizona, New Mexico, Oklahoma, and southwest Texas, but not beyond that region. A black panther has recently been sighted north of Carnegie, Oklahoma, and also the city of rome, in GA. the floyd county district.
See www.wikipedia.com for complete article with references.