PLEASE CLICK "SHOW FULL DESCRIPTION"
Best viewed large
Magnificent cathedral building high on the hill overlooking the town of Newcastle NSW Australia.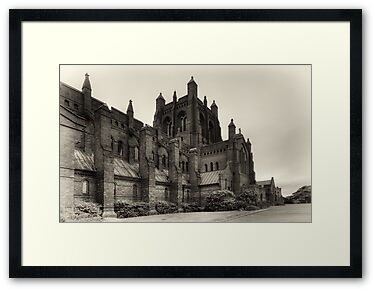 This is a 28 image HDR created in Photomatix Pro. The 28 images comprised of 4 portrait images of 7 exposures each (.7). The resulting HDR was then further processed in Capture NX2 and then had skew adjustment applied in CS5.


Once i was happy with the image it was imported into Silver Efex Pro for the B&W treatment before being saved to a Jpeg in NX2 and final selective noise reduction and USM applied. After all that i then uploaded to Redbubble for you to enjoy. Phew!!!
Nikon D300
18-70 mm
Self made pano head