Please view large here
Another shot from St Saviour's Cathedral @ Goulburn NSW. I was reluctant to post this photo as i am still not sure if the lens distortion at the left and right adds to, or detracts from this shot.
The distortion occurred because i didn't have my panorama head for the tripod.
.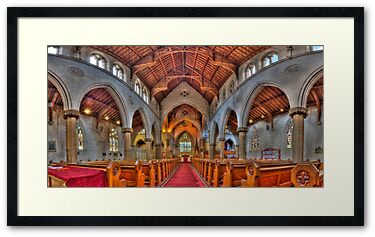 This is a 50 photo HDR panorama made up of 10 frames (2 rows of 5) of 5 exposures each. Each set of 5 exposures was tonemapped in Photomatix Pro using the same settings and then the 10 HDRs were stitched in CS5 and the final photo was finished off in NX2. Nikon D300 & 18-70.