Spirals of Light ©
=
S P I N N I N G . . . . . . . . . . . .
The spirals of light are turning but who is circling who? The coils of light are ever expanding, filling the void, overflowing with joy, there is no fear, only love…. no taking, only giving…. as we wish to see it, so it is…
Vicki

Please click H E R E to preview how you can modify what your print/card would look like! Please contact me via email for larger sizes, bulk orders, web images or promotional material, including customisation. Artwork is Copyright © Vicki Ferrari and embedded with a digital fingerprint & may not be reproduced, copied, edited, published, transmitted without permission.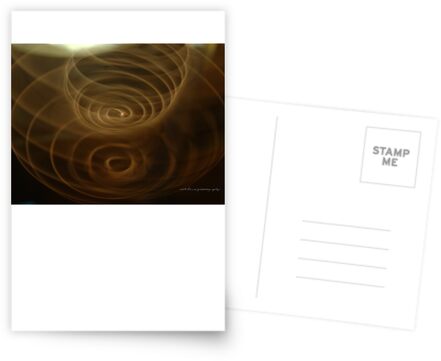 Tech
Nikon D70s
Nikkor 28-105mm (56mm)
f4.2 1/4 sec
Originally photographed 26Mar2008
Basic Curves only
Basically, AS IS!
OUL20100323
RUL20100715
(basictagedit) thought, smoke, creative, ring, brown, cream, thoughts, incense, universe, spin, spinning, mind, artistic, copper, rings, spirals, twist, intrigue, tricks, twists, coils, newage, stirring, vicki ferrari, new age, slow exposure
(edit20110315)
thought thoughts mind,
smoke incense copper spirals,
intrigue twist spin spinning rings ring trick tricks,
coil coils spiral spirals,
stirring universe,
brown cream,
vicki ferrari photography,
vickiferrari,
slow exposure asis as is,

©
PLEASE FEEL FREE TO LEAVE A COMMENT!
I REALLY ENJOY READING WHAT PEOPLE THINK & WHAT THEY GET OUT OF THE IMAGE & TEXT! THIS ALSO GIVES ME AN OPPORTUNITY TO EXPLORE YOUR WORK, WHICH I MAY NOT HAVE OTHERWISE FOUND IN THIS HUGE GALLERY OF REDBUBBLE ART! I DO ENJOY SEEING OTHER PEOPLE'S WORK!