Cat Nap Dreams ©
Vicki Ferrari Photography
=
What can we if we keep our eyes open in our dreams? Can we see like a cat? What else can you see in this image? Feel free to share! I love finding new things to see! :)
Vicki
A L L C A R D S A N D P R I N T S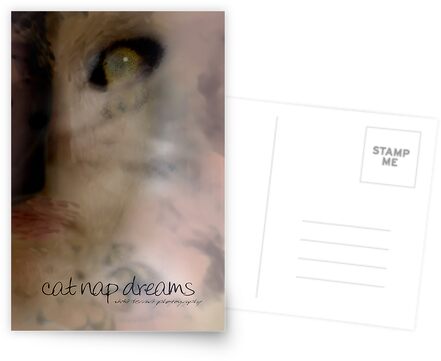 Please click H E R E to preview how you can modify what your print/card would look like! Please contact me via email for larger sizes, bulk orders, web images or promotional material, including customisation. Artwork is Copyright © Vicki Ferrari and embedded with a digital fingerprint & may not be reproduced, copied, edited, published, transmitted without permission.
Tech
Nikon D70s
Photoshop Manipulation
Digital Painting (Corel)
This work has three images within it….
OUL20090402
RUL20090919
RUL20100711
13APR2010
Views 219
12Jul2010
Views 225

©
PLEASE FEEL FREE TO LEAVE A COMMENT!
I REALLY ENJOY READING WHAT PEOPLE THINK & WHAT THEY GET OUT OF THE IMAGE & TEXT! THIS ALSO GIVES ME AN OPPORTUNITY TO EXPLORE YOUR WORK, WHICH I MAY NOT HAVE OTHERWISE FOUND IN THIS HUGE GALLERY OF REDBUBBLE ART! I DO ENJOY SEEING OTHER PEOPLE'S WORK!