Baldy Lookout, Quilpie 2 ©
Vicki Ferrari Photography
Western Queensland Images
EASY INDEX VIEW
=
This was taken from Baldy Lookout, looking west, away from Quilpie, as the sunset, in February 2005. I can't believe how the years fly by so quickly, and where the time goes?! A bit like the Pink Floyd song about time, and how ten years got behind….
Thank you for looking and hope that you like this!
Vicki Ferrari
A L L C A R D S A N D P R I N T S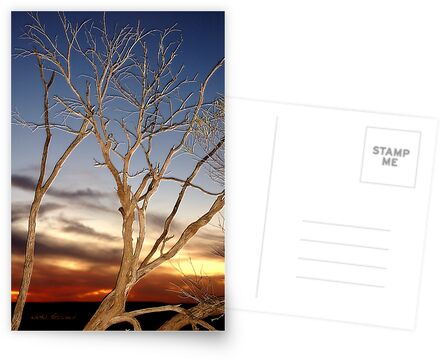 Please click H E R E to preview how you can modify what your print/card would look like! Please contact me via email for larger sizes, bulk orders, web images or promotional material, including customisation. Artwork is Copyright © Vicki Ferrari and embedded with a digital fingerprint & may not be reproduced, copied, edited, published, transmitted without permission.
Tech
Nikon D70
Nikkor 28-105
As Is, bar basic curves in Nikon Editor Only.
OUL20090125
NUL20100402
RUL20100709

©
ORIGINAL TAGS
country, red, sunset, blue, trees, mist, gold, australia, orange, tree, bush, queensland, silhouette, outback, qld, birdsville, quilpie, charleville, vicki ferrari, western queensland, dead tree, baldy hill lookout, outback queensland and westernqueenslandvfpseries
EDITED TAGS
country trees bush outback, red blue gold orange,
sunset mist dead tree silhouette, australia qld queensland birdsville quilpie charleville eromanga baldy hill lookout, vicki ferrari photography calendar, western queensland series westernqueenslandvfpseries
PLEASE FEEL FREE TO LEAVE A COMMENT!
I REALLY ENJOY READING WHAT PEOPLE THINK & WHAT THEY GET OUT OF THE IMAGE & TEXT! THIS ALSO GIVES ME AN OPPORTUNITY TO EXPLORE YOUR WORK, WHICH I MAY NOT HAVE OTHERWISE FOUND IN THIS HUGE GALLERY OF REDBUBBLE ART! I DO ENJOY SEEING OTHER PEOPLE'S WORK!