This is taken in 1998, using a Nikon FM2. It was early morning of the second day of the Oakdale Campdraft and Rodeo (off Blue Mountain Rd, south west of Eton, in Queensland, Australia) and it was so misty and beautiful, I had to take a photograph, of course! These grounds are no longer used for campdrafts or rodeos. This image was scanned from and 6X8 from one of my portfolios. There has been some minor editing in photoshop but the image is basically as is. This image reminds me of how peaceful it was there, so early in the morning, before too many people had stirred from the night before! I hope you get the same feeling! Vicki Ferrari Photography






OUL20090109 RUL20100615 E20110525
©
25MAY2011
Views 646
Faves 020
Tech
Scan of Original 6×8inch print
Basic Photoshop Only
Please click on picture links below to preview & see how you can modify what your print/card would look like! Please contact me via email for bulk orders, web images or promotional material.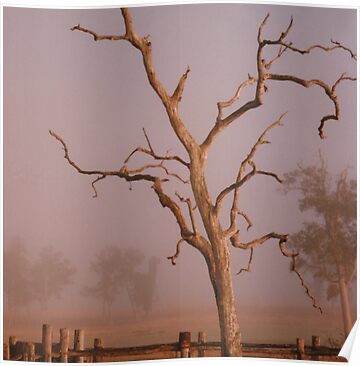 PLEASE FEEL FREE TO LEAVE A COMMENT!
I REALLY ENJOY READING WHAT PEOPLE THINK & WHAT THEY GET OUT OF THE IMAGE & TEXT! THIS ALSO GIVE ME AN OPPORTUNITY TO EXPLORE YOUR WORK WHICH I MAY NOT OTHERWISE FIND IN THIS HUGE GALLERY OF WONDERFUL IMAGES AND ART, SO NAMED REDBUBBLE! Cheers!