This photograph was taken on the Melrose Road, Albert (central New South Wales, Australia), in the 1980's. It is a scan of an 8X12 print in one of my earlier portfolios – basic editing done in photoshop, to remove the inevitable dust & scratches that are prominent with negative use (which become really apparent once you have scanned the image!). Apart from that, what you see is what it is! This is one of my favourites. It was even used in a country music CD a few years ago! I was a bit impressed by that – chuffed almost! (yes, I was chuffed, not almost!) You can take pity on the person that was in the car with me, driving home at night & having to stop! I have to take a photo! (& how often do we do that?!) I hope you like this & thank you for looking & reading!
VICKI FERRARI PHOTOGRAPHY



All Group Features

Please contact me via EMAIL for larger sizes, BULK orders & , WEB images or PROMOtional material, including CUSTOMisation. Artwork is Copyright © Vicki Ferrari and embedded with a digital fingerprint & may not be reproduced, copied, edited, published, transmitted without permission.

Jan 2009
Dec 2009 Rural Around the Globe
Jan 2010 Style, Class & Elegance
Jan 2010 The Art of Intrigue
25Jun2010 70 1251
10Mar2011 86 2010
Tech
Minolta XGM SLR
This is a scan of the 8X12 print in one of my earlier portfolios – there has only been basic editing done in photoshop, to remove the inevitable dust and scratches that are prominent with negative use (which become really apparent once you have scanned the image!).
OUL20090109 E20131217

©
MEDIA
Photography
Graphic Design
(old) moonlight, melrose, roads, albert, new south wales, vicki ferrari, full moon, central western new south wales, central west new south wales, music cd cover, country, rural, night, trees, australia, road, travel, dirt, tree, bush, farm, nsw, glow, moon, film, gravel
(new)
vickiferrari,
vicki ferrari photographer,
moonlight full moon moonglow,
thought saying,
albert melrose tottenham tullamore nsw new south wales australia,
country rural trees travel farm bush gravel,
central western new south wales,
central west new south wales,
gravel road unsealed dirt red,
music cd cover awards,
PLEASE FEEL FREE TO LEAVE A COMMENT!
I REALLY ENJOY READING WHAT PEOPLE THINK & WHAT THEY GET OUT OF THE IMAGE & TEXT! THIS ALSO GIVES ME AN OPPORTUNITY TO EXPLORE YOUR WORK, WHICH I MAY NOT HAVE OTHERWISE FOUND IN THIS HUGE GALLERY OF REDBUBBLE ART! I DO ENJOY SEEING OTHER PEOPLE'S WORK!
You will find MORE COUNTRY TALES and stories in Central Western New South Wales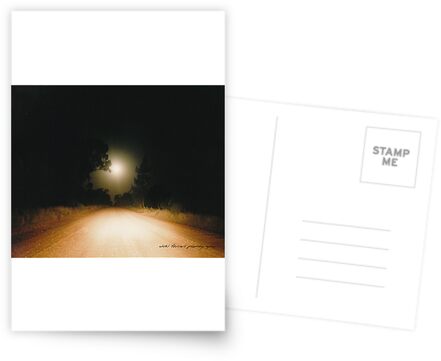 10th March 2011