A leaf floating. Trying to shoot my way back to making pics …. first bit of photography since April :-) – I'm happy!!
Floated the leaf in about 2" of water in a black tray.
Then came the bit on experimenting with the lighting so that the water stayed black and the lighting didn't show the bottom of the tray (that was a toughie).
Lit using an umbrella to camera left and above fitted with a SB800 fired wirelessly using a Cactus V2s trigger.
Used a large black acrylic sheet behind this setting to cut off all reflections from the water.
Nikon D80
Nikkor 50mm f/1.8
f/9.5 at 1/90 secs
Shot in colour and converted to B&W in CS3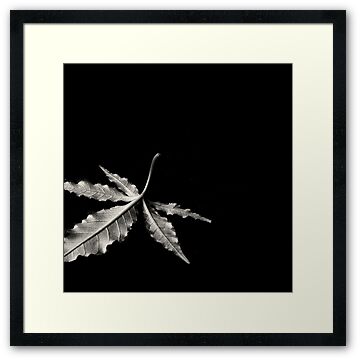 I also liked the original colour shot