[beach, County Donegal, close up, coastal, crab, Donegal, evening, hermit crab, Inishowen, Irish, Lough Swilly, Lough, low tide, mollusk, peninsula, postcard, sand, sea, seashell, seaside, shell, tide line, Ulster, whelk, wildlife, >500 >1,000 >2,000 >3,000 views, Featured, Six features]
Painting Based on this Photograph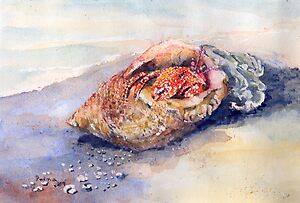 Sea Front Property (Hermit-Crab's Residence)
by Pnina Osguthorpe
10 th March 2014 Achieved its Sixth feature in the group Life's a Beach
6 th March 2014 View Count reached 3,000
16 th February 2013 View Count reached 2,000
20th January 2013 Featured for the fifth time in the group Breathtaking Wild Animals & Plants (See History for a list of groups in which this photograph has been featured.)

Camera: Canon EOS 5D Mark II | Lens: Canon 24-70 zoom f/2.8 (set at 50mm)
This hermit crab was photographed at the tide line on Fahan Beach, County Donegal, Ireland on a Spring day in the early evening. Fahan beach is on the Inishowen coast of Lough Swilly.
A hermit crab has no shell of its own and instead uses an empty shell that it finds on the beach. As it grows in size, it has to find a larger shell and abandon the previous one.
Technical Photographic Detail
Camera: Canon EOS 5D Mark II | Lens: Canon 24-70 zoom f/2.8 (set at 50mm)
Exposure: 1/400 | Aperture: f/11 | ISO: 400 | Filter: Polariser

Part of my postcard range. You can follow on to another gorgeous Very Ireland Post card .

---
History of this Image on RedBubble
10 th March 2014 Achieved its Sixth feature in the group Life's a Beach
6 th March 2014 View Count reached 3,000
16 th February 2013 View Count reached 2,000
20th January 2013 Featured for the fifth time in the group Breathtaking Wild Animals & Plants
10th Aug 2012 Achieved it's fourth group feature when it was featured in "A Little Bit of Youl"
26th November 2011 view count reached 525
18th Sep 2011 Featured in "It's in the detail"
18th May 2011 view count reached 100
14th May 2011 Featured in "Top Shelf Wildlife"
7th May 2011 Featured in "Close-Ups in Nature"
2nd May 2011 Uploaded to RedBubble
---