DIMENSIONS
Best viewed large.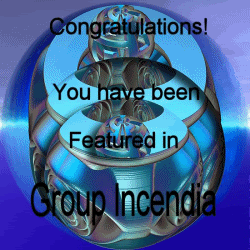 "DIMENSIONS" was FEATURED in GROUP INCENDIA


"DIMENSIONS" was FEATURED in the group YOU'RE ACCEPTED


"DIMENSIONS" was featured in the group "IMAGE WRITING ":http://www.redbubble.com/groups/photowriting


I created this image "DIMENSIONS" using new parameters in fractal art through Incendia software, and did all of the post-processing in Photoshop.
ABOUT FRACTAL ART:
Fractal art is created indirectly with the help of fractal generating software, iterating through three phases: setting parameters of appropriate fractal software, executing the possibly lengthy calculation, and evaluating the product. In some cases, other graphics programs, such as Photoshop, are used to further modify the images produced.