My website: www.LeonRitchie.co.uk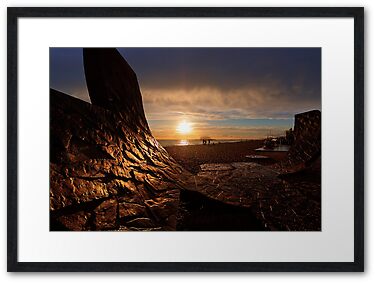 Sculpture made by: Charles Hadcock
Commissioned by: Brighton Borough Council through National Lottery grant
The title of the sculpture comes from a musical description (Italian) of an instrumental piece in which a theme stretching over several bars is continually repeated, usually but not necessarily always, in the bass. It is derived from old dance music which was often played in the streets.
In the form of a tile tessellation, inspired by the limestone terraces at Black Head, Co. Clare, Ireland. Some tiles are flat, others curved and all have textured surfaces that resemble Yorkstone paving. The reverse side of each tile reveals the nuts and bolts of the construction.
Location: Brighton, East Sussex, England, UK.
Camera Model – Canon 50D
Lens – Sigma 10-20mm
Focal Length – 10mm
Shutter Speed – 1/1000
Aperture Value – 6.7
ISO Speed – 200
Filter – UV