This piece of work and the accompanying poetry below were both created by me, inspired by the hurt of being on the sidelines of another's life looking in. Unable to ever be anything more than that. Still I carry pride for them, and for what they have achieved.
Drenched
voids
provide gaping wound,
in which
emptiness flows.
Peering out
through painted layers
my once thought
irrepressible,
pain shifts.
Immersed
in solace
with welcomed
pride
for another.
Mixed Media:
Textured and layered piece using:
Acrylic painted abstracts, Photographs plus an acrylic painted mounted composition of plasterboard tape.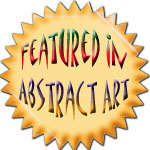 March 2011
Featured in Pink Panther Magazine – Feminist Art & Writing in March 2011
Permanent Feature in ART UNIVERSE – April 2011