Featured in: Fantastic Mixed – Art imagewriting 2/24 – painted nature and objects – Inspired art group
(1081 views) january 20th, 2013
Story Line: Although the floods had receded, a swampy pool remained in the vineyard. The daily morning mist rolls in as our two Galahs do their morning breakfast rounds.Where are the grapes? One says.


Collaboration – Reproduction
Quality – 2nd Place
SoJie 12, August 2011

Traditional Art – Honors
SoJie 12, August 2011

Collaborative Connection
Honors – SoJie 12
August 2011
A translation of Paul Erwin's Photo Galahs in the Mist.
http://www.redbubble.com/people/earlwin/art/547...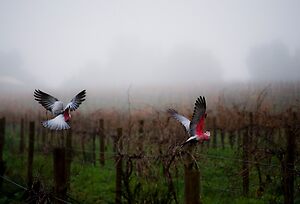 galahs in the mist
by paul erwin
Acrylics on canvas