Dutchman's Breeches are one of the most common flowers at Shenks Ferry. You'll also find its relative Squirrel Corn, which has the more classic shape of a bleeding heart.
Dicentra cucullaria (Dutchman's breeches) is a perennial herbaceous plant, native to rich woods of eastern North America. The common name Dutchman's breeches derives from their white flowers that look like white breeches.
Height is 15-40 cm. Root is a cluster of small pink to white teardrop-shaped bulblets. Leaves are 10-36 cm long and 4-18 cm broad, with a petiole up to 15 cm long; they are trifoliate, with finely divided leaflets.
Flowers are white, 1-2 cm long, and are born in spring on flower stalks 12-25 cm long.
Dutchman's breeches is one of many plants whose seeds are spread by ants, a process called myrmecochory. The seeds have a fleshy organ called an elaiosome that attracts ants. The ants take the seeds to their nest, where they eat the elaiosomes, and put the seeds in their nest debris, where they are protected until they germinate. They also get the added bonus of growing in a medium made richer by the ant nest debris.
Shenks Ferry is an amazing place, at least 73 species of flowers bloom from mid-March until the end of May. More than 60 other species of flowers bloom during the summer and fall.
Best viewed large in a color managed browser such as Firefox or Safari.
Canon 5D
Voigtländer SL Macro APO-Lanthar 125mm
1/200 @ f/8 (ISO 400)
Single RAW file converted through DxO
Taken 4/15/11 at Shenks Ferry Wildflower Preserve near Pequea Pennsylvania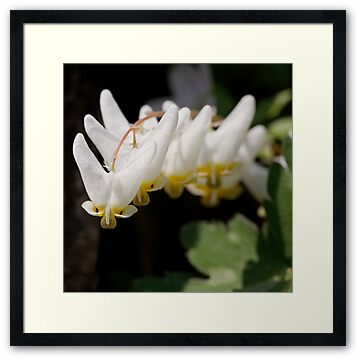 Plant description taken from excerpts of Wikipedia.