'The Prom' is here (book launch)
Wilsons Promontory is on the southern most tip of mainland Australia and was one of the first national parks declared in this country. It is a particularly stunning bit of coastline and over the last number of years I have been quite obsessed with photographing it and now finally sharing these photographs with whoever else is interested in the form of my new book.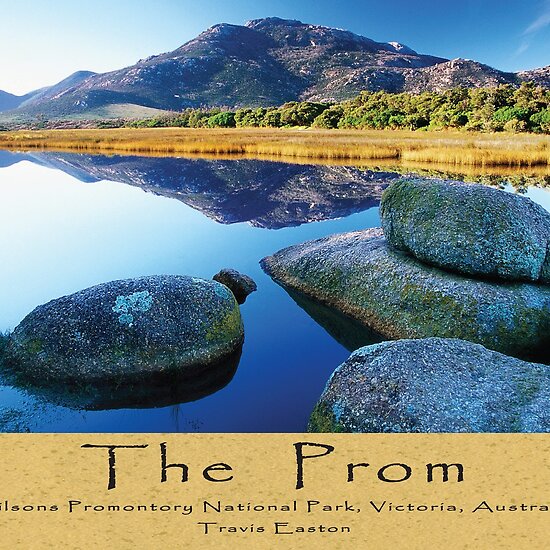 Occasionally I'm asked, "So is it much work to write a book?" Well… yes, estimate the worst case time, effort and money scenario you can, then times it by ten and you're probably starting to get close, (some of you may have noticed I haven't been on redbubble as much of late, this article explains why quite effectively I believe).
The following is an extended account and a list of thank you's to those that have made the release of my new book 'The Prom – Wilsons Promontory National Park, Victoria Australia' a reality. It is an 80 page full colour landscape photography book, 8"x10" with 107 of my best Prom shots, an essay by Graeme Wheeler and a short history. It will retail for $24.95 delivered free within Australia or anywhere in the world for an extra $35.00. To order visit www.telp.com.au .
To give you some context, this book is actually my fourth, my previous three being a series of drum tuition texts called Musial Drumming . These publications were excellent in giving me a good grounding in Adobe's InDesign package which is an indispensable tool for anyone wishing to put a book together themselves. They also gave me invaluable know how in regard to all the organization aspects of producing, publishing, editing and distributing books, content wise they were of no help whatsoever.
I first visited Wilsons Promontory back in 1991 and after about ten years of regular visits I began to think about putting a book together of all my pictures. In 2006 with enormous pride I completed my first proof. Looking at it now, the layout and many of the pictures were awful (although 65 of 107 pictures in this edition made it to the final version). After much feedback and self critique I completed two more versions in 2007 but after this flurry of effort it went on the back burner as I wanted to improving my folio of work. Being cursed with a perfectionist streak I never seemed to be able to get the perfect set of shots I was after so it lay dormant for 18 months.
This changed just before Easter last year when out of the blue I got a bmail from Don Wilson and as a result we ended up hiking in the DuCane Range in Tassie together. During our many conversations Don shared with me about the success he had had with his 'Marysville – Moss, Snow and Mountain Ash' book and inspired I decided to give my book another go upon my return. After another mammoth amount of work version four was released later that year via the American, print on demand website, blurb. Two weeks later (before blurb had even sent me my books) I received a surprise phone call from Parks Victoria inquiring about a wholesale price for my book. I was stunned, I thought, I'm not ready for that yet, anyway shouldn't I be the one hassling you and not the other way around. This interest was enormously encouraging however and reinvigorated my efforts. Wholesaling via blurb was not a viable option as being a small print run specialist their prices simply weren't low enough. As providence would have it however I had a friend whose brother was a print broker so I got some quotes and sent off some proofs to Parks and waited for a response… and waited… and waited… before finally deciding to do what does not come naturally to me and hassle them with a phone call. To summarize the conversation: "Not interested, too expensive and the quality is not up to scratch." "I agree completely, it's a digital print, not an offset print and I've only used a cheap scanner. Before doing a mass print run I'll get everything drum scanned so the quality of the final version will be much better," "Oh that sounds great, when you've done that send us another copy and we'll let you know if we want some or not." "Umm, forgive me for being forward but the book is on Wilsons Promontory and I am simply not in a financial position to spend a truck load of money on a huge print run on the off chance Wilsons Promontory wants some. You guys are the lynch pin for this whole project, if I go to print on this, it will be because you guys want them". "Ohh… OK… Come into the office next week and we'll have a chat". And what a chat it was, thank you Trish Morris, you took this inexperienced publisher under your wing and gave me marketing and general advice from the perspective of an experienced industry insider that was a revelation to me and resulted in this project taking a completely different and what is proving to be a far more successful direction. Another few months of hard work and the submission of my fifth proof and… yippee, a huge order beyond all my expectations, thankyou Parks Victoria because of you it's happening.
After another massive editing effort, four more proofs and a lot of money changing hands I finally received delivery of forty-two boxes of version ten that are now sitting in my living room, much to my wife's displeasure (she loves the book just hates the amount of space they take up).
As I have done all the photography, book layout, cartography and writing myself (accept for the preface) I needed a lot of help to get it to this place. As mentioned I received great marketing advice from Trish Morris at Parks Victoria on how to best place my book in the market for maximum effect. I've also had numerous graphic designers critique my layout, poo poo my font choices (I'm a font nuff, nuff) and generally help me pull my socks up in the presentation department. Many of my friends have helped me edit the text, before I presented it to a professional editor (an old high school friend, Zoe Hamilton) who very quickly demonstrated the world of difference between professional editors and amateur ones (my gosh, she's good). I then got in contact with a Biology Professor at Melbourne University, the author of the excellent 'A field guide to Wilsons Promontory', David Meagher to check my species identification. Another big and expensive step along the way was to rescan all my velvia transparencies. A few grand later and splitting image had completely transformed my book. The quality difference between the scans from my $1,000, Nikon Coolscan V and Splitting Image's $300,000 Linotype HELL3400 could not be more pronounced.
Earlier in my journey I pieced together an extensive history of the Prom by reading every book, magazine and website I could find on the subject. Of course the more I read the more questions I had and when I had exhausted all other avenues of enquiry I turned to the ex head ranger of Wilsons Promontory National Park, Jim Whelan who was of enormous help. He went to considerable effort to answer my many obscure questions and even met up with me to show me some photos and maps he had.
Another wonderful character I met on my travels was a great pioneer of bushwalking in Australia, and accomplished author and editor in his own right, Graeme Wheeler. I first met Graeme's wife Fleur at the Stockyard Gallery in Foster and as we chatted and discussed my work she suggested I meet her husband who was also a photographer and bushwalker. As a result of this meeting and numerous others Graeme very generously gave me permission to use his text in the preface, a read I can really relate too and have enjoyed during my numerous readings of it.
Of course the other big(gest) contributor to the book's completion has been my wonderful wife Monique, who has blessed my numerous trips away and has selflessly looking after our (now) four young ones on her own while I've been swanning around. Of course such projects do not come to fruition without considerable up front financial expense so thanks again Monique for believing in me and this book enough to OK the investment of the funds necessary to get it off the ground, love you.
So there you have it well some of it anyway, there's also, ABN's, ISBN's EAN's etc. oh the joy… Seventy six days across twenty-five trips over 19 years where I explored the Prom via foot, sea kayak and rope, even doing a complete circumnavigation by foot around its shores in search of 'the shot'. In the process I used 37 rolls of velvia, way more than this on the digital camera, destroyed one camera, a lens, three tripods, upgraded my camera twice and spent a small fortune on ever better lenses. I've also worn out four packs, three pairs of boots and three gortex jackets during this time. Done some really extreme off track walking (10 hours for a 2.5km gain was my worst/best effort). Two, ' I think I'm going to die' moments, one in a sea kayak on the way to Great Glennie Island in really rough weather the other while doing a solo sea level traverse around The Cathedral when a rock dislodged under my foot and I fell down a cliff. More scratches, bites, stings and sunburn than I care to remember and… OK, yes it was all self-inflicted and I loved every moment of it, even the difficulties and challenges are enormously rewarding.
When I completing my first proof in 2006 I thought the book would be out in months, four years have passed since then which would be a frustrating delay for most but I believe my patience to get the shots I wanted, edit… edit… then edit some more and not to rush the book to print before it was ready have resulted in a book that I will remain proud of in years to come (no small feat for a perfectionist). I don't mean to sound trite by saying this but I haven't been motivated to expend all this effort to make money, I've done it because I truly love this place, and my hope, is that that many others will grow in their love for the Prom while turning its pages as well.
So do yourself a favor and get my book (it's only $25 for goodness sake) and visit the Prom, you'll love it too.
For a sample of what is in the book check out this Youtube clip or my Prom Gallery if you like them, you'll dig the book.
Trav
Availability
'The Prom' can be purchased online here
It is available along the Prom Coast at:
General Store, Tidal River, Wilsons Promontory
Yanakie Store, 3640 Promontory Rd, Yanakie
Celia Rosser Gallery, Promontory Rd, Fish Creek
Fish Tales, 17 Falls Rd, Fish Creek
Foster's Little Bookshop, 4 Station Rd, Foster
Somewhere by the Sea, 8 Bridge St, Foster
Rhythm Cafe, 3/5 Bridge St, Foster
Sandy Point General Store, 107 Beach Pde, Sandy Pt
Waratah Bay Caravan Park, Frecinet St, Waratah Bay
Port Welshpool General Store, 93 Lewis St, Port Welshpool
Welshpool Post Office, 20 Main St, Welshpool
Port Albert Service Station, 49 Tarraville Rd, Port Albert
Yarram News Xpress, 195-197 Commercial Rd, Yarram
Prom Country Visitors Information Centre, Sth Gippsland Hwy (Coal Creek), Korumburra
Wonthaggi Visitor Information Centre, 37 Watt St, Wonthaggi
In and around Melbourne at:
Information Victoria Bookshop, 505 Collins St, Melbourne
Bogong Equipment, 374 Little Bourke St, Melbourne
Readings Books and Music, 309 Lygon St, Carlton
Readers of Whitehorse, Shop 53, Centro Box Hill
Wilderness Shop, 969 Whitehorse Rd, Box Hill
Alcove Art Shop, 470 Station St, Box Hill
Croydon Camera House, 125 Main St, Croydon
Photobarn, shop 16, 172 Burwood Hwy, East Burwood
Redgum Gallery, 2 Victoria Rd, Lilydale
Melbourne Map Centre, 738-740 Waverley Rd, Malvern East
Kuranga Native Nursery, 118 York Rd, Mt Evelyn
Yarra Valley Showcase, 3401 Warburton Hwy, Warburton
More soon…
Reviews:
Hey Travis, you are a bit of a nuisance you know? I've just blown half of my morning with my head in your book. What a magnificent effort. Obviously put together by someone who 'feels' the Prom rather than just seeing it.
Well done,
Regards
Jim
Jim Whelan
Operations Manager (Ex-head ranger of Wilsons Promontory National Park)
"I looked through the book …..Wow man!!! …..I see so many pics of Gippsland and they all seem to resemble (or have been embelished) to look like "somewhere else" …..This is honest photography though . It looks like ' Wilsons Prom' as the naked eye would see it……………thank you …you've done it justice."