Last week parts of Victoria had unprecedented rainfalls (525mm at Mt Buffalo) so I thought I'd squeeze in a day of waterfall bagging on the weekend. This area had 191mm in the last week and 41mm the day before my trip so there was water everywhere. To my delight I found four unmapped drops on Sunday coming in at 22m high, 3.1m high, 10.5m high and a massive 45m high. This one was the top tier of the 22m high drop, this tier being 5.7m. My detailed studies of topographic maps and knowledge of local geology paying off yet again. It really is the most amazing feeling when you come across such amazing places that have somehow escaped the notice of cartographers despite being within 100km of a city of three million.
This particular drop is a mere 150m from a well used bitumin road and there were no sign of paths, passage, rubbish, nothing. I'm sure some locals would know its here but seriously how can such a gorgeous drop be basically unknown? The other detail of interest is this is the first overhung, plunge waterfall I've ever seen with a granite geology. Usually granite drops are lower angle slab affairs.
If you'd like to know where this and 180 other drops are near Melbourne hopefully I'll finish my very long in the gestation book this year (or next) which will be called 'Melbourne's Waterfalls' and you can buy it, so no hints before then.
The whole drop looked like this (you can just see the top of the pictured tier in the upper part of the frame):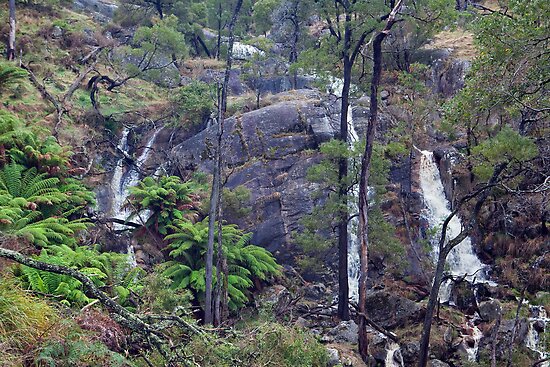 I'll put this trip in a journal when I get around to it.
Camera: Canon EOS 5D mkII
Lens: EF 24-70mm f/2.8L @ 51mm
Filter: Circular Polariser
ISO: 100
Shutter Speed: 1/10th sec
Aperture: f/8
When: 11:27am 4/3/2012
For more shots from this area check out my Melbournes Waterfalls gallery.
$30 a month of photography related profits go to the Wilderness Society