Another waterfall pic of un-named (till now), largely unknown, difficult to get to and rarely visited drop on one of the creeks that flows into Eildon Reservoir. I visited it last year with Don Wilson who was only too happy to offer his boat as transport when I suggested it, thanks Don.
This creek had five tiers and at the second tier there was a plaque where Julie Anne's ashes had been spread. As the creek has no name this therefore seemed an appropriate title with which to call this series of cascades.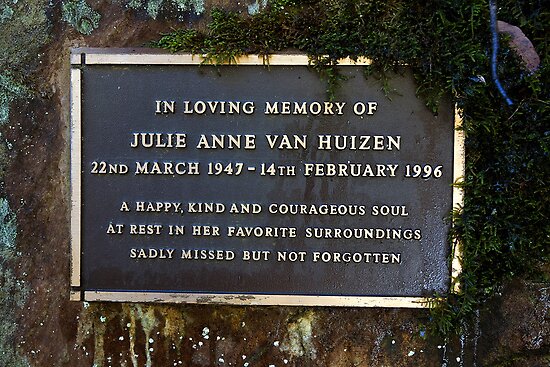 Camera: Canon EOS 5D mkII
Lens: EF 16-35mm f/2.8L II USM @ 16mm
Filter: Circular Polariser
ISO: 100
Shutter Speed: 3.2 sec
Aperture: f/16
WB: Auto
When: 5:56pm on 2/12/2010
For more waterfall shots check out my Waterfalls portfolio.
$30 a month from photography sales donated to the Wilderness Society