Last Thursday (19/11/10) I visited Wilhelmina Falls for the third time. It is (was) a popular tourist walk with bridges and platforms to give easy access until black saturday which wiped all these facilities away. My first visit was with the family and it was completely dry.
The second trip it had a small flow which from the other pictures of this waterfall that I've seen appears to be a typical amount.
The following is a picture of the same rock on my second trip (notice the shadow from the overhanging trees that are no longer in the main image):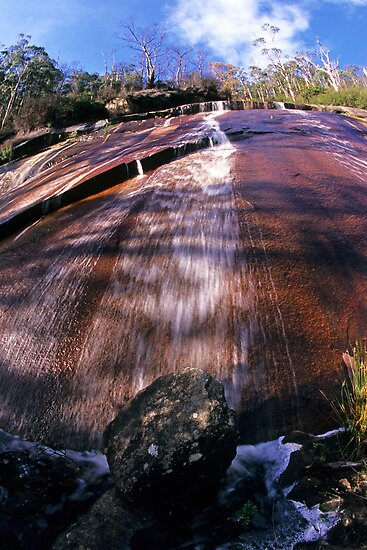 And another rock first trip with no water: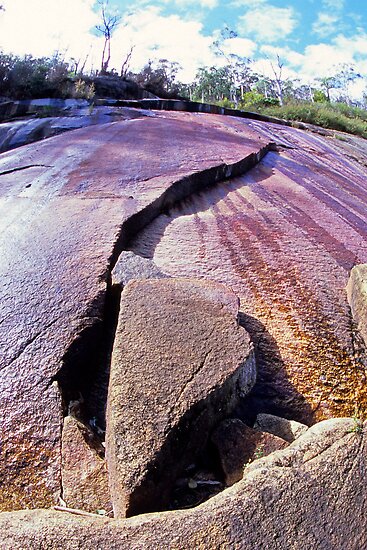 Second trip with a little water:
This trip: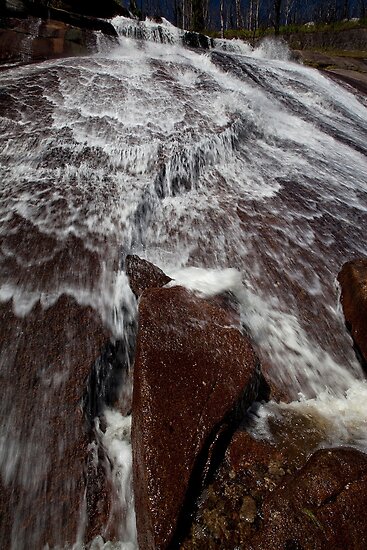 On this trip after the best spring rains in ten years it was truly an impressive sight. There are not many waterfalls around Melbourne which can awe you with there power but when this one is going like this it is certainly one of them.
To get a better idea I've posted a you tube clip here
Workers are starting to rebuild facilities but seem to have decided not to replace the bridge (or car park) over the Murrindindi River at the closest road access instead moving the start of this walk a further kilometer downstream??? The regeneration has been very verdant around here and they have not yet slashed the track or rebuilt the viewing platforms or stairs so access is somewhat wild at the moment.
Not ideal to shoot a waterfall on a bright blue sky day but if you pick an open one which isn't half in shadow and so on you can work with it.
Thanks as always for dropping by.
Camera: Canon EOS 5D mkII
Lens: EF 16-35 f/2.8L II USM @ 20mm
Filter: Circular polarizer
ISO: 100
Shutter Speed: 1/125th sec
Aperture: f/16
WB: Auto
Time: 2:48pm on 19/11/10
For more waterfall shots check out my Waterfalls gallery.
10% of all profits go to the Wilderness Society