Found: A 30m high unmapped waterfall
(A day in the life of a waterfall addict # 6)
Yesterday 20/11/12 I did my usual weekly waterfall hunt and to my delight found a truly massive unmapped drop. I'm a pretty seasoned waterfall hunter now but it is pretty rare to find such a substantial unmapped one like this.
I can't tell you how thrilling it is to bash through some horribly thick undergrowth (post black saturday regeneration with lots of cutting grass creeper, yuk) not knowing whether you are going to find a steep overgrown gully, rapids, cascades or a full blown waterfall. First you notice more light coming through the trees as the ground ahead drops away and there are no trees to block it, then you hear the water and in increasing excitment make your way to the edge of the precipice. The sight revealed on this occasion being this one: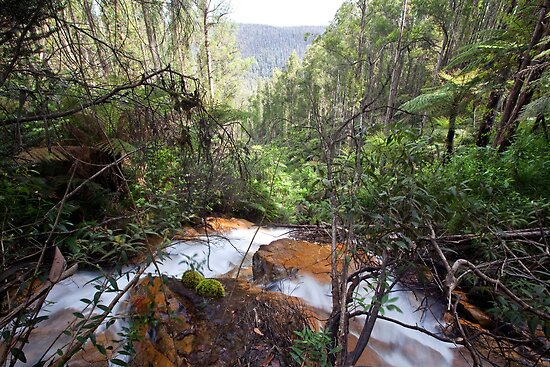 The drop was in three steps the first one was 11m high: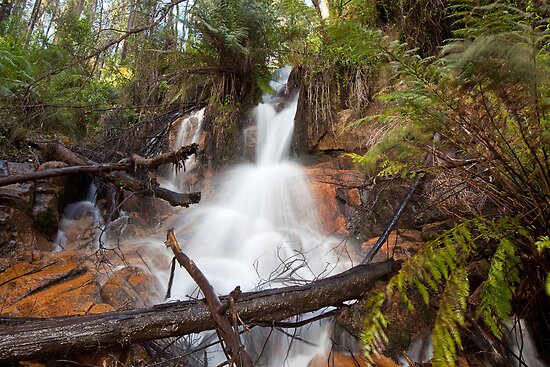 The second 5m high: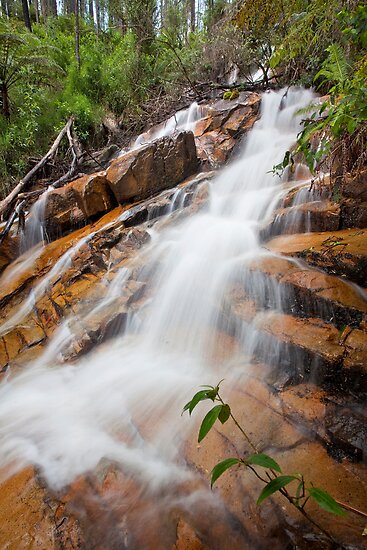 And the bottom step (with the upper two just visible in the top of the frame) 14m high: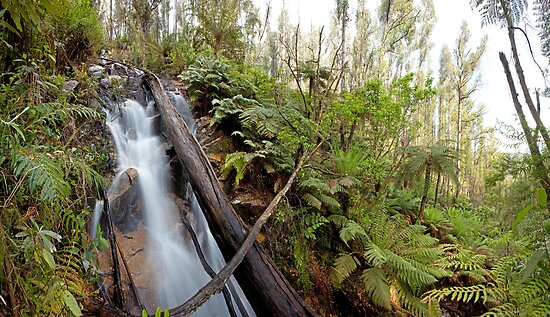 There wasn't much in the way of vantage points so I was very close to it so the upper tiers are a bit hard to see.
Never ceases to amaze me how incomplete in regard to waterfalls the cartography is around Melbourne but then again I suppose in relative terms it's only been 177 years since Europeans who make maps have been here. It does makes me wonder whether all/ many of these drops were included in the Kulin song lines, sadly though this information has died with it's custodians so we'll never know.
For full details of this and 200 other waterfalls within 100km of Melbourne you will need to wait for the release of my next book 'Melbourne's Waterfalls – 200 waterfalls within 100km of Melbourne'. Yesterday I ordered my second proof so am getting closer to production standard (that and I need to find nine more waterfalls but they are coming hard and fast at the moment), hopefully it will be out in late 2013.
For more shots from this area check out my Melbourne's Waterfalls gallery.
Previous waterfall addict posts:
A day in the life of a waterfall addict #5
A day in the life of a waterfall addict #4
A day (or 3) in the life a waterfall addict #3
The beautiful Creek with the ugly name – A day in the life of a waterfall addict #2
A day in the life of a waterfall addict #1