A day (or 3) in the life a waterfall addict
I've been on my waterfall hunting quest for five years now. My aim has been to visit and photograph every waterfall within 100km of Melbourne and eventually compile them into a book. I started by visiting all the popular tourist falls, then checked out the obscure often unnamed ones on maps. I then searched old books, maps and magazines for drops that have fallen off current maps and now I'm using my knowledge of the geology of areas in combination with topographical maps to guess likely waterfall locations before conducting a search on the ground. Finding these unmapped ones I have found to be by far the most satisfying part of my journey so far.
It absolutely amazes me that such significant geographic wonders within 100km of a city of 4 million can have gone unnoticed for so long. Of course I'm not the first to have visited these drops but it is likely that in a number of cases I am the first to have photographed, measured and named these features.
This journal is a comprehensive listing of every waterfall and tier I photographed and measured during a recent three day trip. Many of the shots are far from good and I have done it more to share a little of my journey on this quest for those that are interested. If on the unlikely chance anyone wants to purchase any of these pics bmail me and I'll unhide them so you can.
On this particular trip I visited 10 waterfalls (5 unmapped) containing a total of 34 tiers. The first was:
Jacks Falls, 1st tier (3.8m, cascade)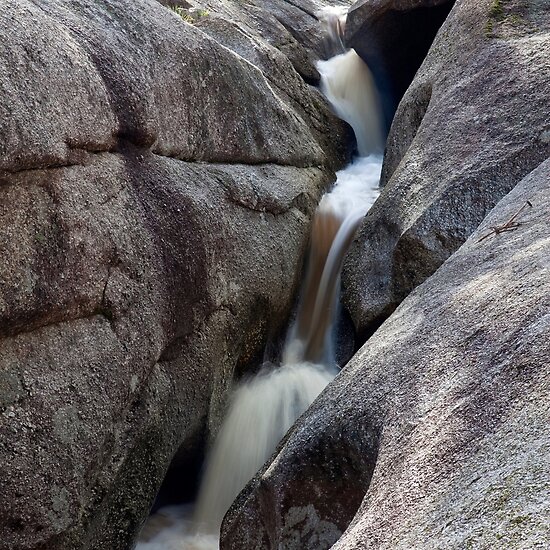 Jacks Falls 2nd tier (7.8m, curtain)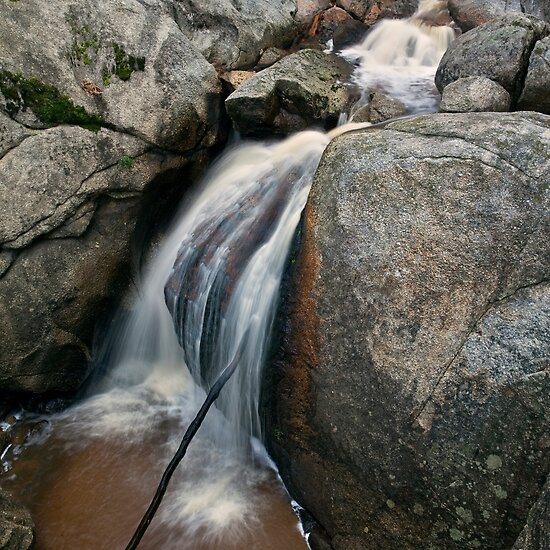 There are actually 8 tiers at this waterfall but as I have visited twice before and my main aims on this occasion was to look for new drops I only visited the top two tiers before moving on, overall height 55 meters.
Lower tier taken on a previous trip.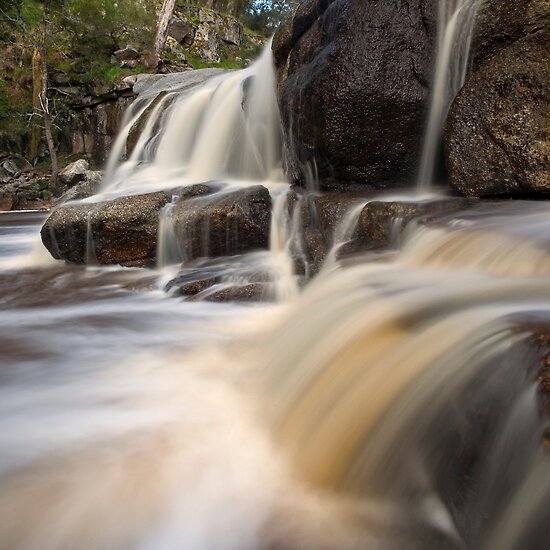 Carhill Falls, 1st tier (5.6m, slide)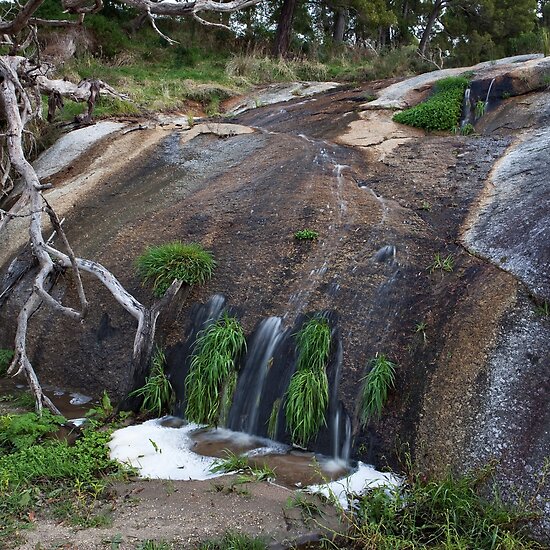 Carhill Falls, 2nd tier (2.5m cascade)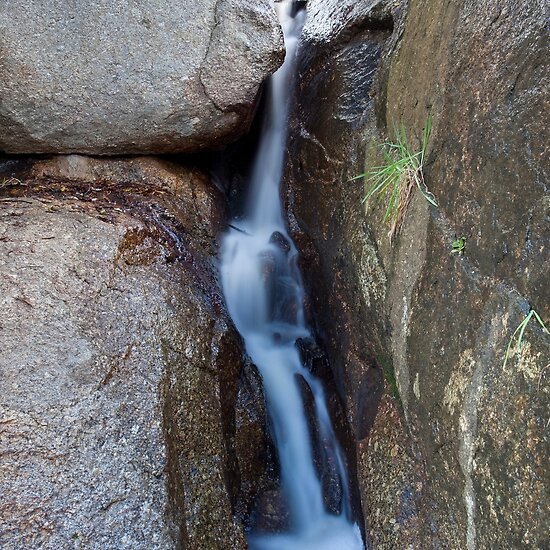 There is a smaller third tier but as it is under 2 meters it fell beneath the criteria I have defined for inclusion as a distinct tier, overall height 10 meters.
I found this waterfall while looking for Caveat Falls and named it after this prominently placed wreck overlooking the falls.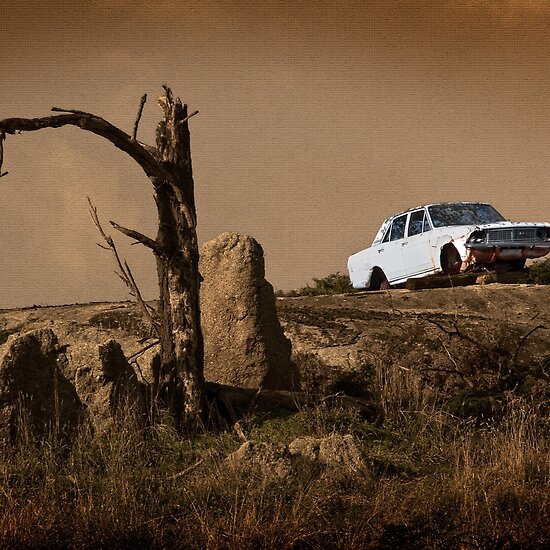 Caveat Falls (3.2m curtain)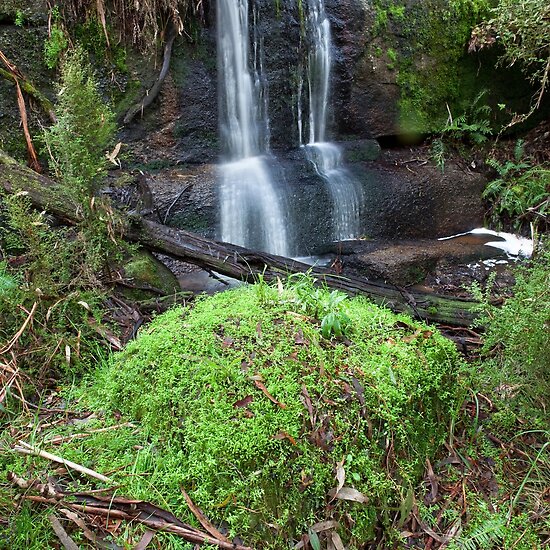 The terrain below this drop looked very promising on the waterfall front so I wandered downstream but alas it was a granite boulder area and although I could hear it the water ran underneath these boulders so no other waterfall was found. Still it was a pretty gully.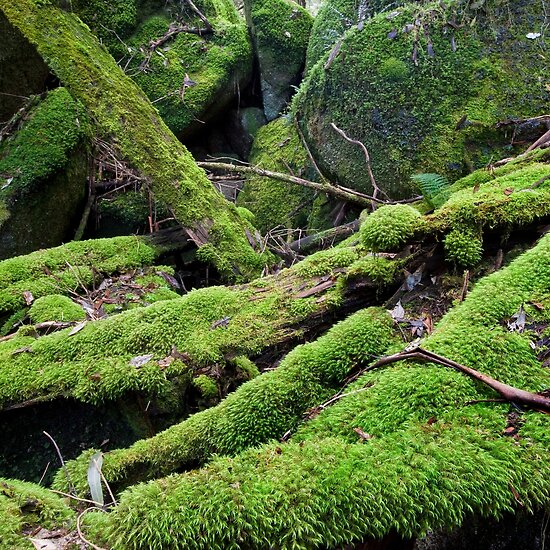 After this I continued to a nameless creek with a decent catchment with no waterfalls marked but as it passed through a lot of contour lines over a short distance I was pretty sure I'd find something. I had cartographically discovered it a few months before and was particularly excited to see what it revealed on the ground. It started in a similar way to the previous drop with an extended set of cascades where the water went underground for sections. Finally a solid cliff forced the water to the surface and the first of three distinct tiers revealed itself. I've decided to name the drop after my beautiful wife (at Don Wilsons suggestion).
Monique Falls, 1st tier (6.1m curtain)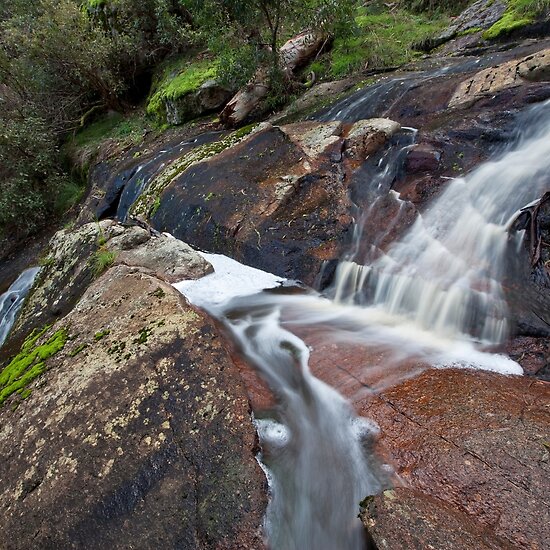 I continued downstream past more rapids checking my map which seemed to indicate that I had already passed over the section of greatest waterfall likelihood. I was therefore quite surprised when rounding another bend the tell tale sign of a suddenly brighter section of creek indicated a significant break in the trees rushing to the next bend this is what greeted me:
Monique Falls, 2nd tier, 1st step (8.4m plunge)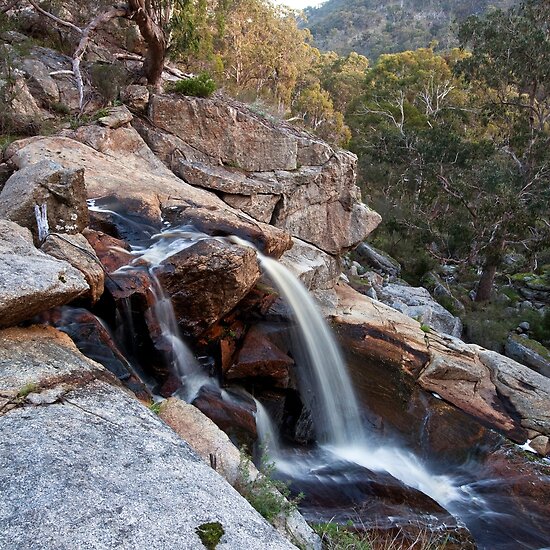 Opposite the falls was a very convenient rib of rock which in sections protruded above the tree line providing the perfect vantage point for a good view of the whole drop. The biggest unmapped drop I've ever discovered.
Monique Falls, 2nd tier (23m, plunge/ curtain)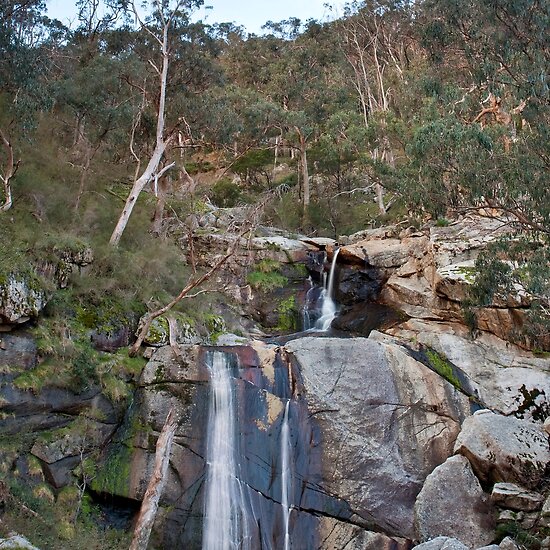 As I was measuring this drop my Leica laser distance measurer (yes I own a Leica even if it's not of the camera variety) ran out of juice, and my spare rechargeable batteries were all dead too so I had to steal the batteries from my head torch to get it to work, returning them later for the return slog up the hill. Below this tier was a third one but before I got there I was distracted by some other cascades on the main creek.
Hidden Falls, 3rd tier (5.6m cascade/ slide)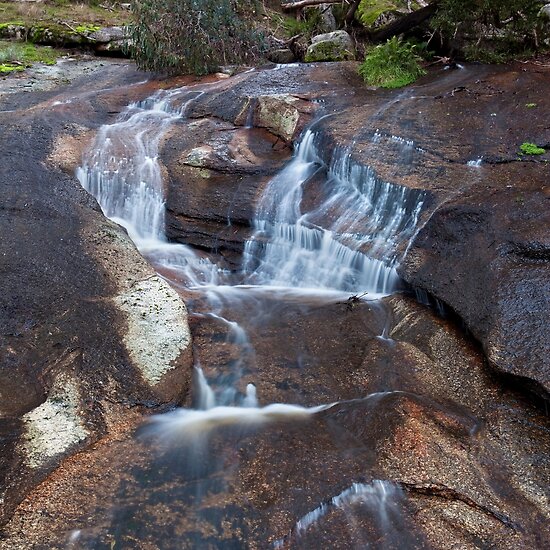 The second and main tier had a giant torpedo of rock that almost completed obscured the drop (thus my proposed name). The only way to get an unencumbered view was to stand right to the side of it.
Hidden Falls, 2nd tier (7.2m plunge)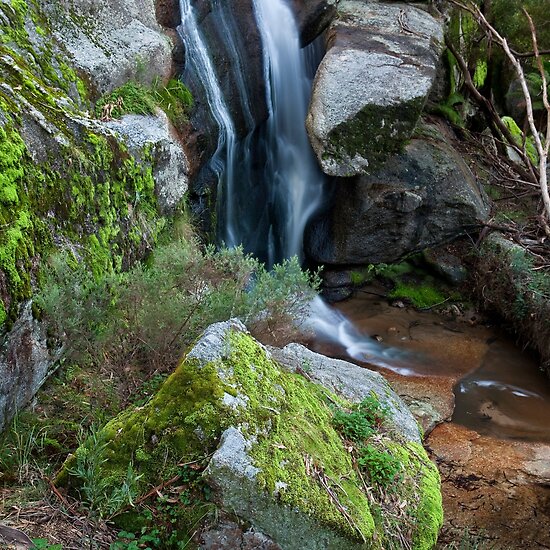 The top tier was also very pretty.
Hidden Falls, 1st tier (5.4m cascade)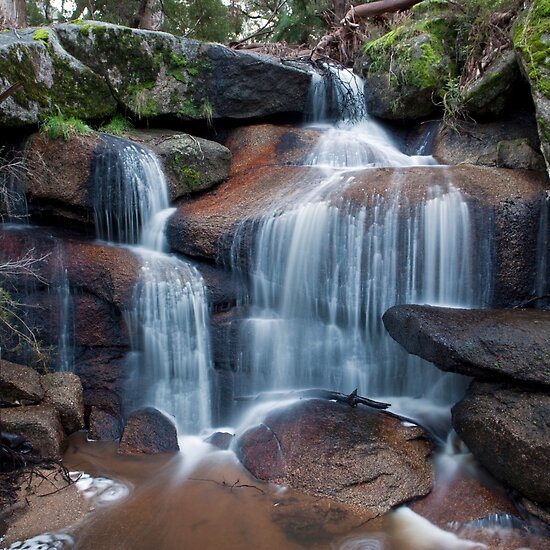 I continued up higher but the giant granite boulder syndrome came back into play complete obscuring further drops. By this time it was completely dark, I should of measured the third tier of Monique Falls but I wanted to get to some shops before they closed so instead got straight into the long climb back to the car.
On the drive out I dropped into another previously visited roadside drop to get a rock sample. As part of my planned book I thought it would be of interest to identify the geology of each drop and having found a friend of my fathers who is happy to identify these samples for me I've been rapidly filling ice-cream containers in my garage with rock samples.
Back in town I got some new batteries and then had a truly horrible souvlaki for dinner. Afterwards I returned to the top of the range and camped as close as possible to my next days objective. Finding it was a bit of an ordeal as I had to pass through a number of farm gates. At first I was reticent to do so and looked for another way around, this being impossible I returned. The gate was marked 'please shut the gate' and there was no 'keep off, private property' sign so I figured it was alright. A kilometer or so down the track I came to another gate and a sign proclaiming a park so I figured the road was public and just happened to pass through some fields on its way to the seldom visited park. Unbeknown to me I had wandered onto the highest peak in the area to the south of open farmland on a night that had high winds forecast. I sat in my car reading for a while (which proved to have unfortunate consequences the following evening) then set up my tent in time for the winds to pick up. My tent, shook like a leaf all night and despite my earplugs I didn't get much sleep and started early the next day.
Traversing across and around farmland I eventually descended to Stony Creek on top of the first of many gorgeous drops that day.
Lower Stony Falls (12.3m plunge)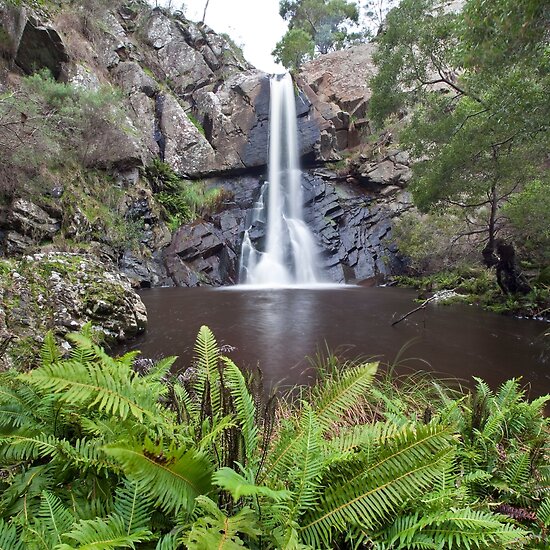 Nearby was another waterfall on a tributary I've called:
Pebble Falls (9.4m cascade)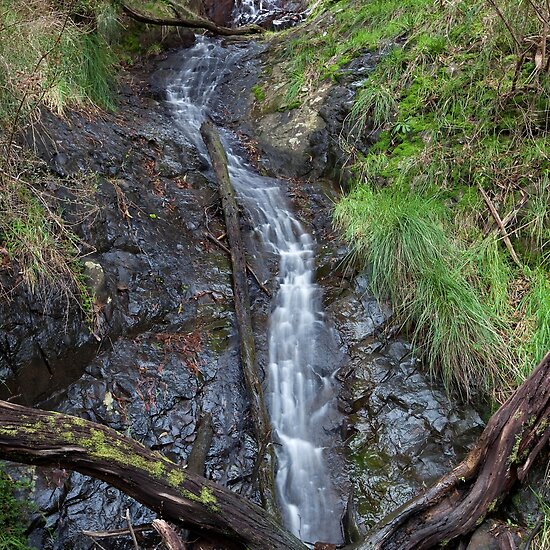 I then descended the creek for a few kilometers finding a pretty valley but no drops of note. Returning to my start point I continued my assent passing numerous pretty rapids before exploring another tributary where I found three more unmapped tiers I've called-
Highlands Falls, 3rd tier (2.4m cascade)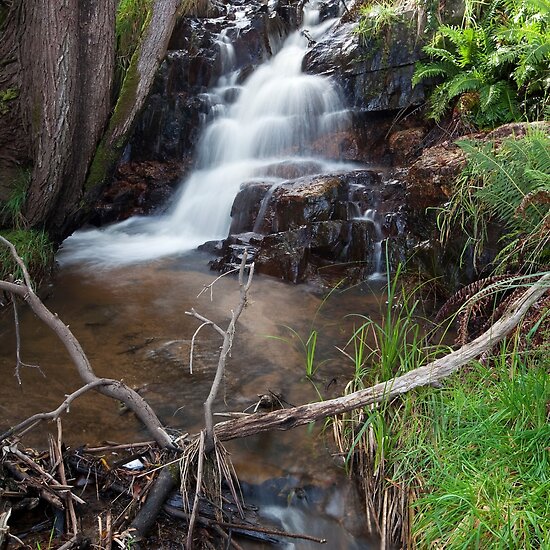 The second tier was almost completely obscured by tree branches and debris but after an extended bit of gardening it shaped up alright. This drop was also interesting as it marked the exact point where the geology changed from claystone to granite, with the falls being a mixture of both these rock types.
Highlands Falls, 2nd tier (3.8m curtain)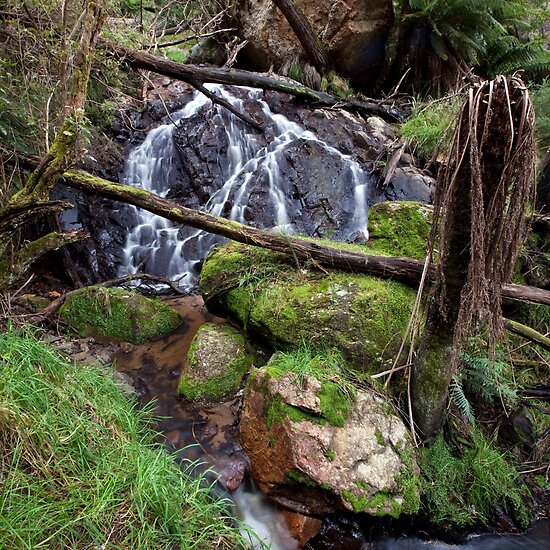 Highland Falls, 3rd tier (2m cascade)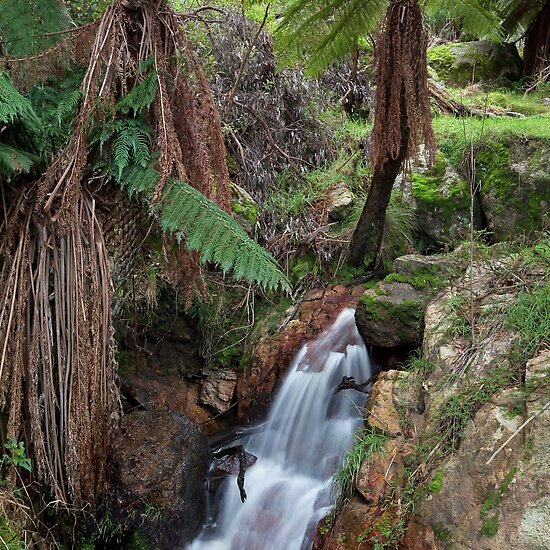 After returning to the main creek I found two more substantial unmapped drops.
Lower Middle Stony Falls (6.7m curtain)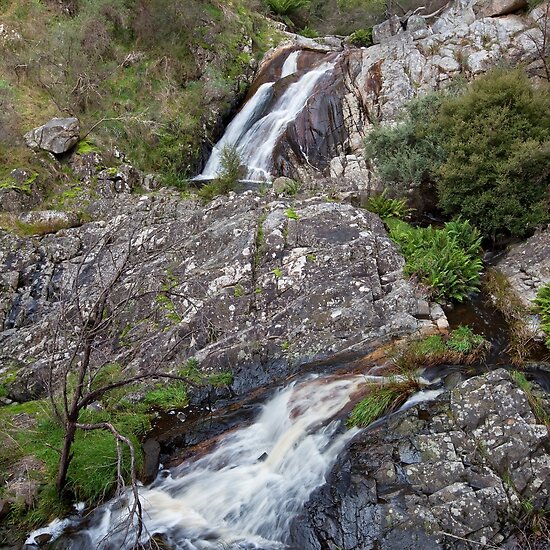 Upper Middle Stony Falls (5.6m curtain)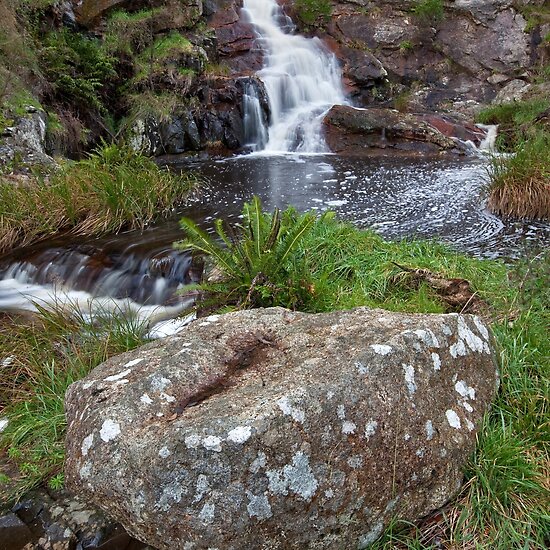 After many more pretty rapids I came to the wonder of Upper Stony Falls. This thing is huge, it's three tiers drop over 72m with the upper tier being a massive 47m high. In my opinion this thing has serious tourist potential, but being in a bit of a tourist black hole area it is completely ignored in favor of other attractions 'down the road'. It is mapped but despite researching waterfalls for five years I've never heard of it and I found no sign of previous passage whatsoever. Once again I was blown away by natures hidden splendor and the rewards available to those who study maps and explore areas that few others bother with. It is also one of the great things about this waterfall quest I am on. There is no way in the world I would ever have checked this spot out but for the fact I am trying to visit every waterfall I can within 100km of Melbourne. Wonderful Stuff.
Upper Stony Falls, 3rd tier (6.7m slide)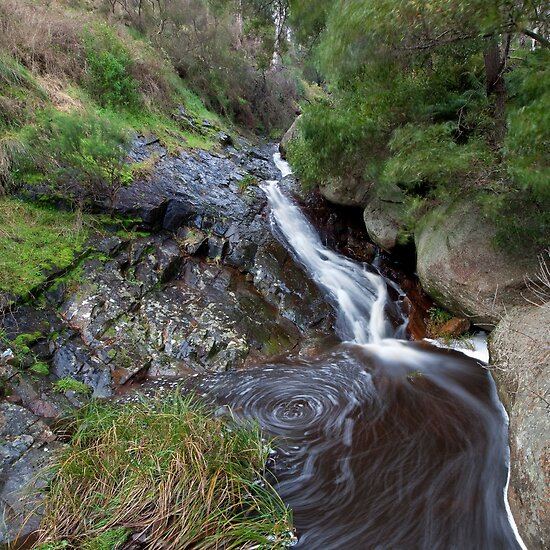 Upper Stony Falls, 2nd tier (17.3m slide/ cascade)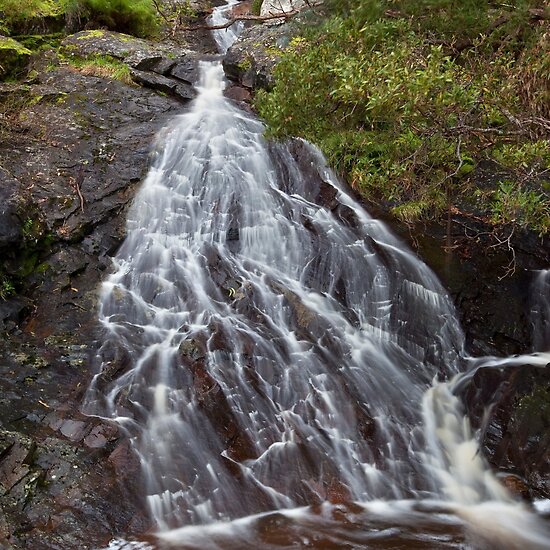 Upper Stony Falls, 1st tier (47m curtain)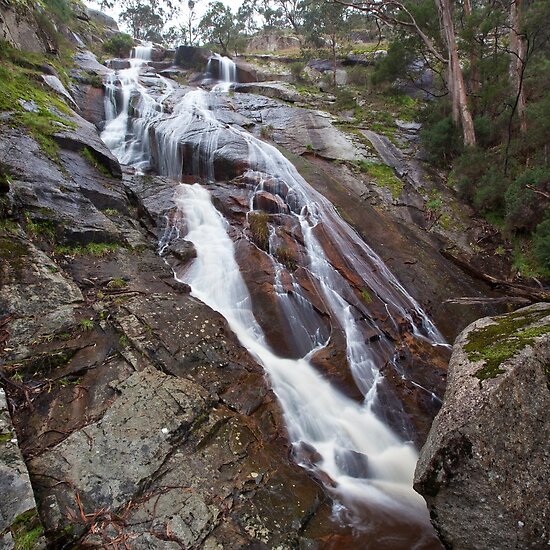 The bottom view doesn't really capture its size so I took some more shots from a vantage point half-way up.
Upper Stony Falls, 1st tier (top half)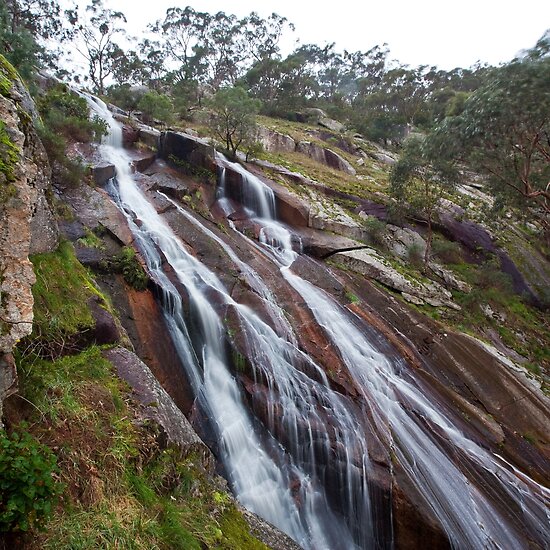 By this time it had started raining a bit harder and at the top of the falls I left the shelter of the valley and was hit by the full brunt of a storm. Fortunately the car wasn't too far away and after a full day I returned to it just after dark. I had left in the morning thinking I'd be back by lunch so I was pretty hungry. I went to start my car and was horrified to find that it wouldn't start. Being mechanically ignorant I wasn't sure what was wrong but having read by cabin light the night before thought the battery was a good place to start. Two weeks before I had been waterfall hunting with Don Wilson and he told me a little story about having a flat battery atop Lake Mountain after everyone had left for the day. Fortunately there was a truck up there so in the dark he removed the battery without a torch by feel, jump started his car and got home. Having jumper leads and being near an uninhabited farm I thought I had nothing to loose, so I walked in borrowed a battery from a truck, jump started my car (hooray) and returned the battery (thank you Mr Farmer and Don for the inspiration).
After the previous evenings horrible dinner I had a pub meal that night which was so big I couldn't finish it. I then got a call from Don who I had organized to meet the next day. After an extended search for a campsite in farm land with more no camping signs than I'd ever seen in my life I finally found a small treed corner near a ford and set up my tent there for a thankfully windless night which resulted in a much more restful sleep.
I had organized to catch up with Don at 8:00am the next morning and at 7:00am I got a call 'Where r ya?' By the time Don arrived I had packed up my camp and we headed over to Falls Creek. Again we thought it would be a morning affair but an extended set of 12 tiers over a few kilometres of creek had us busy for the whole day, or in Dons case up until he had to head back home to pick up his kids. As I'm shooting, collecting rock samples and measuring everything I'm a particularly slow mover. Fortunately me and Don are more than happy to spend a day together but apart pursuing our own visions of an area, so it was all good. This was my third visit to this drop (although on previous visits I didn't go past the unmapped lower weir thinking this was Falls Creek Reservoir… stupid map), anyway I've included a few comparison shots from previous trips here as well.
Trawool Falls, 12th tier (7.6m slide/ plunge, this trip)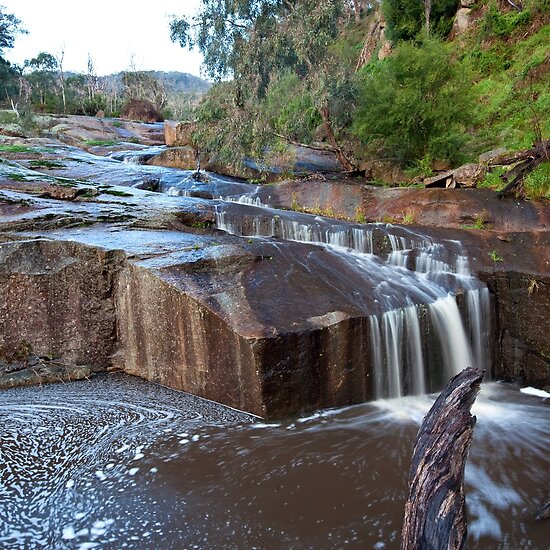 Trawool Falls, 12th teir (September 2010, after floods)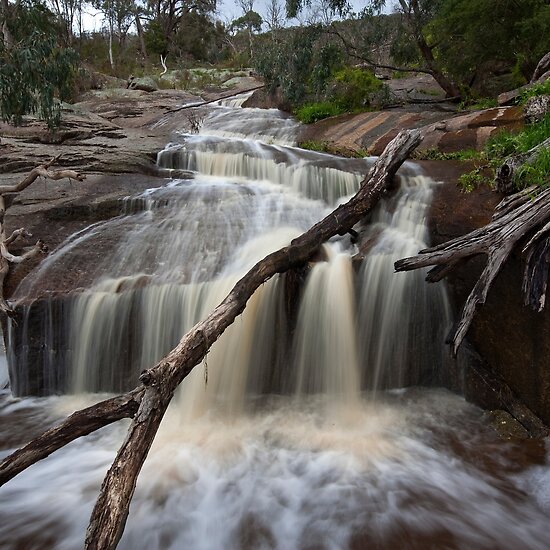 Trawool Falls, 12th tier (October 2009, after years of drought)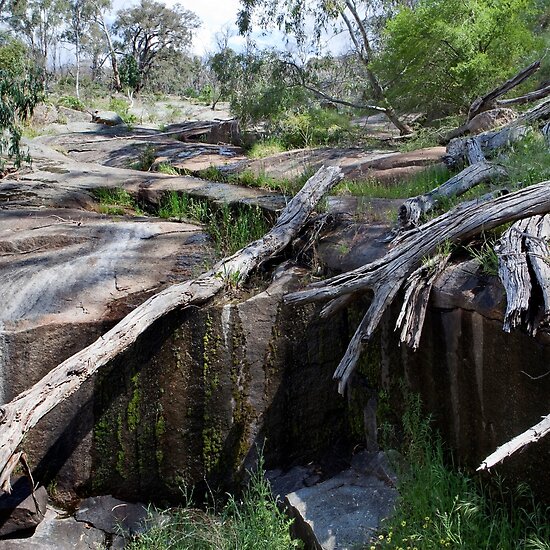 Trawool Falls, 11th tier (8.2m cascade/ slide)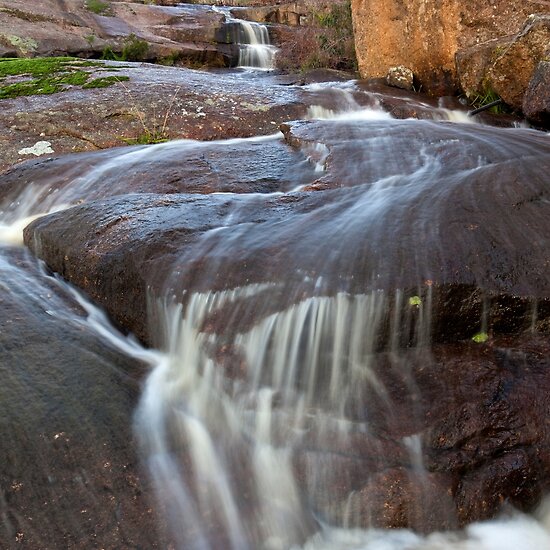 One for the ladies… Dons ass hahahaha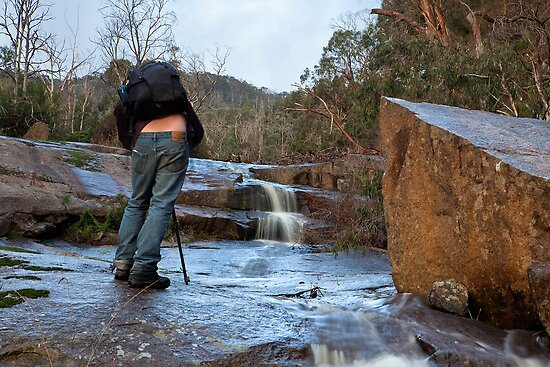 Trawool Falls 10th tier (15.4m slide)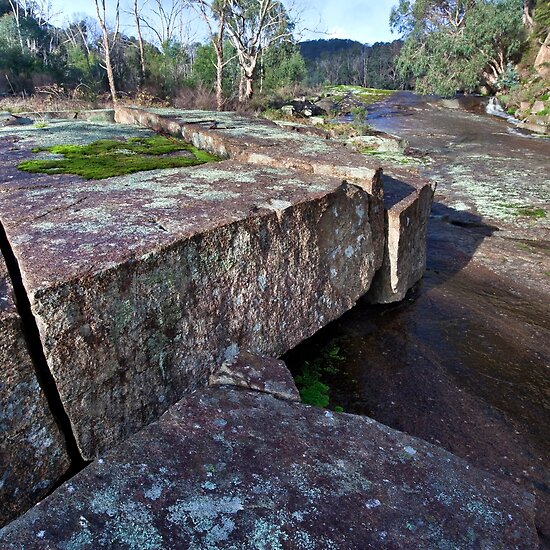 Trawool Falls, 9th tier (main drop, 2 steps 15.2m curtain/ cascade)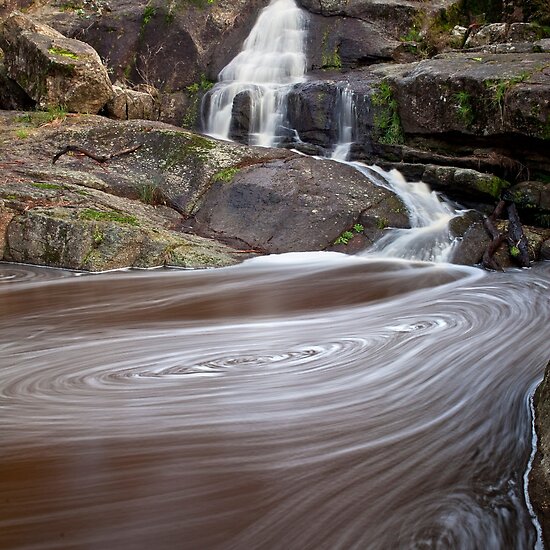 Trawool Falls, 9th tier (October 2009 totally dry and overgrown after years of drought)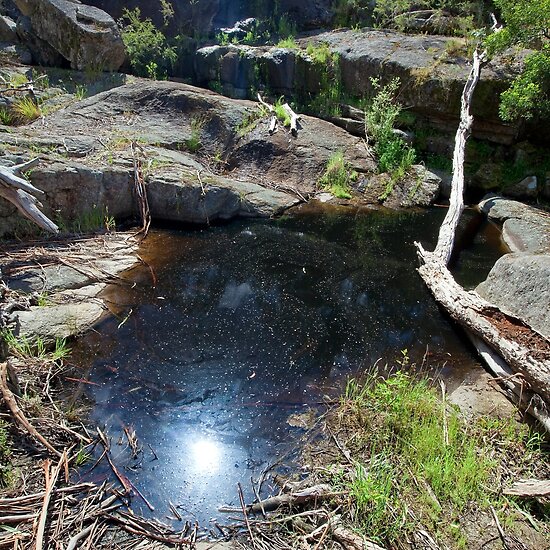 Lower Falls Creek Weir (taken on a previous trip, 1.8m weir)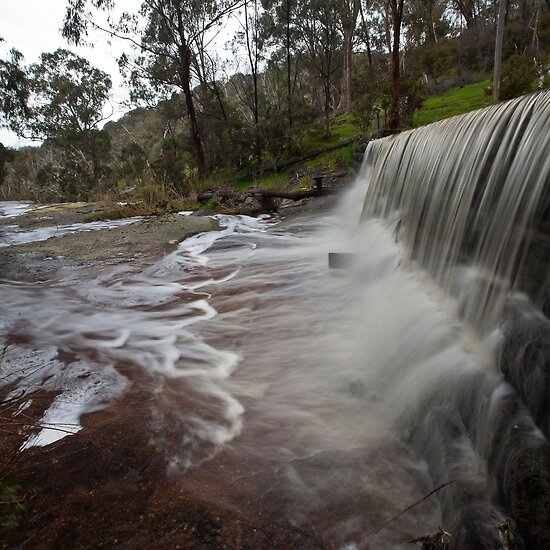 Trawool Falls, 8th tier (4.7m cascade)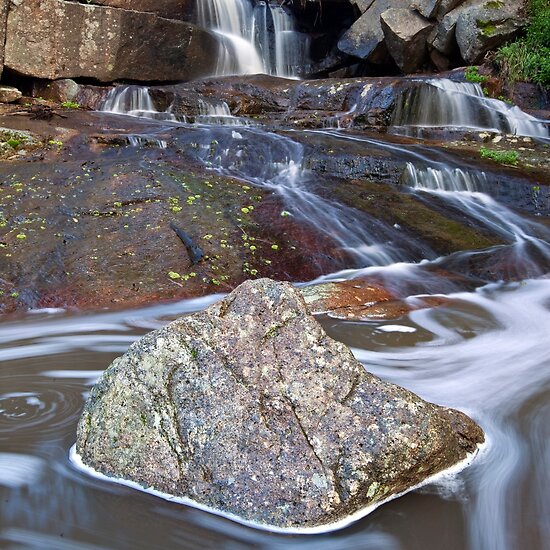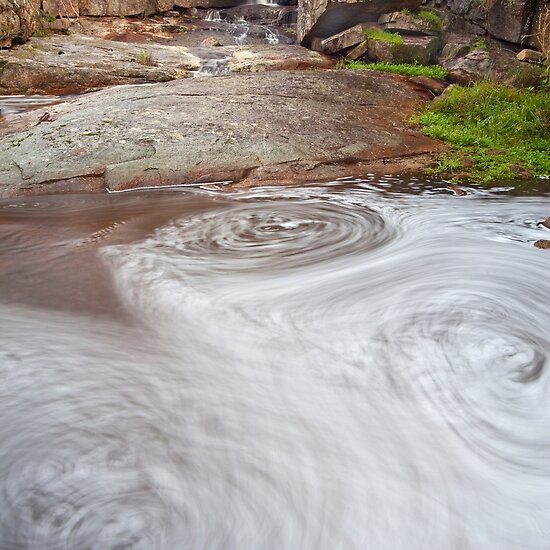 Trawool Falls, 7th tier (5m slide)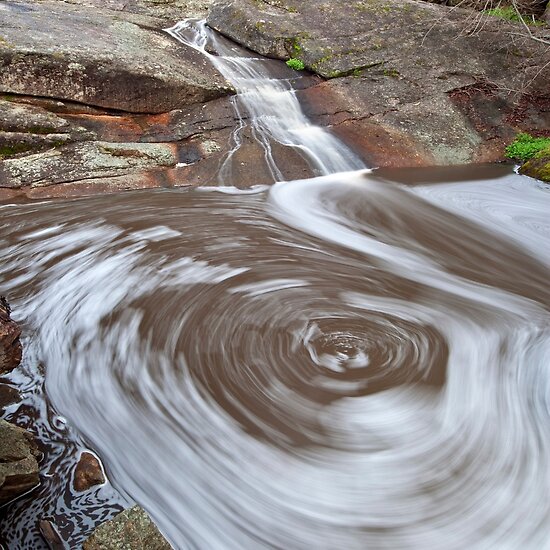 Trawool Falls, 6th tier also known as 'The Slide' (25m slide)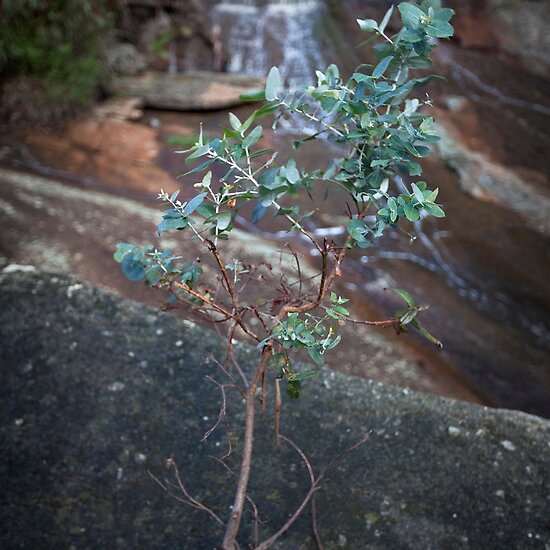 Middle Falls Creek Weir

I found this funky puff ball fungi just below the 5th tier
Rounded Earth Star (Geastrum saccatum)

Trawool Falls, 5th tier (19.4m slide)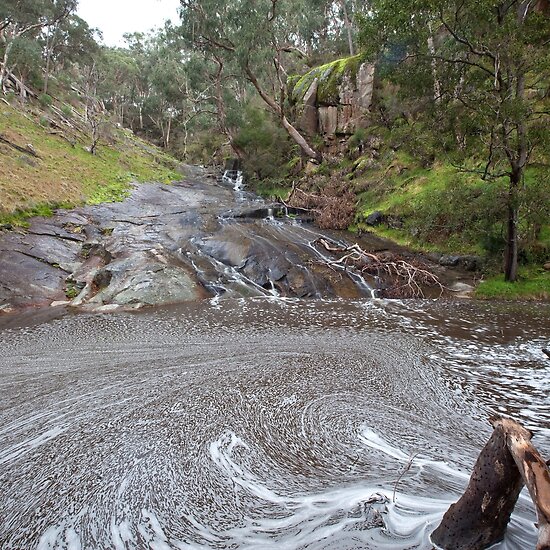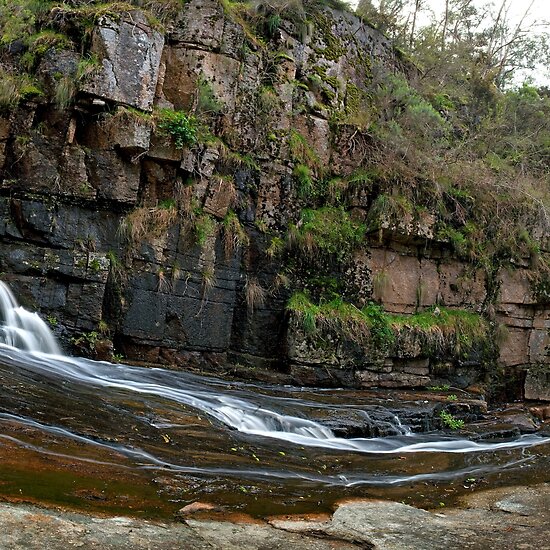 Trawool Falls, 4th tier (8.6m cascade)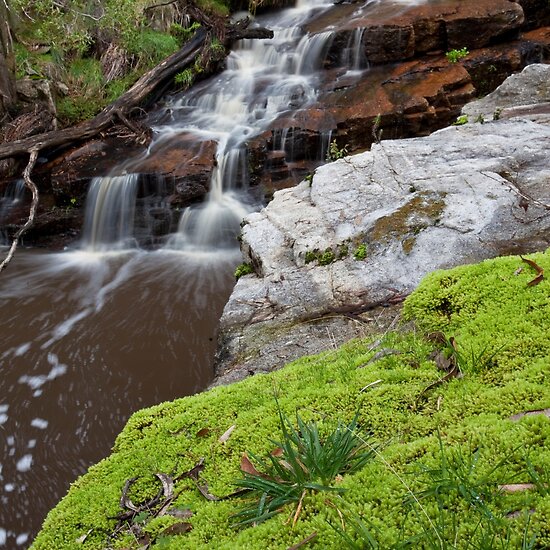 Trawool Falls, 3rd tier (2.4m cascade)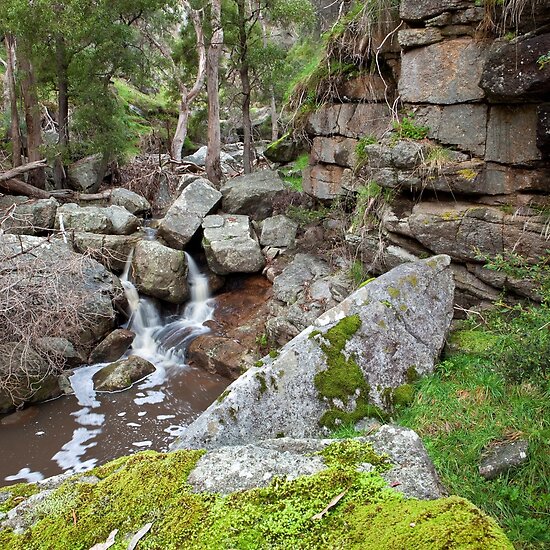 A swirl with rapids

Trawool Falls, 2nd tier (4.2m cascade)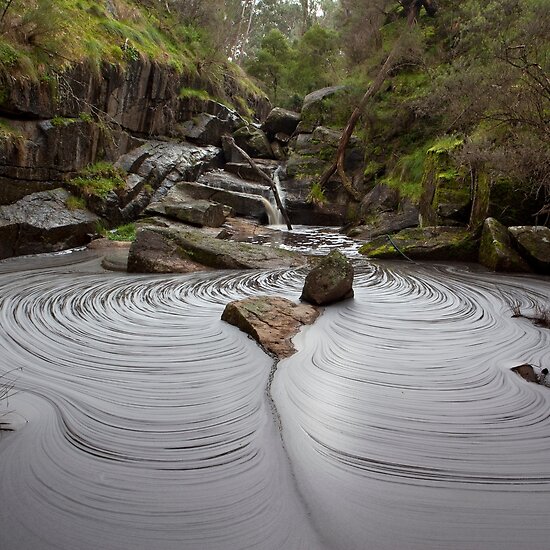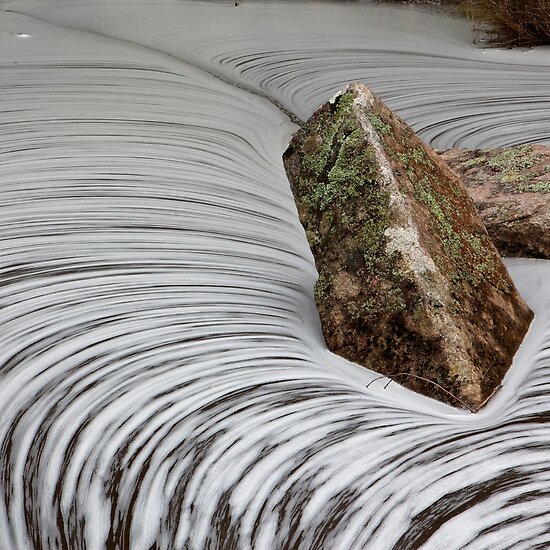 Trawool Falls, 1st tier, 2nd step (20m plunge/ slide/ plunge, also known as Ferris Falls)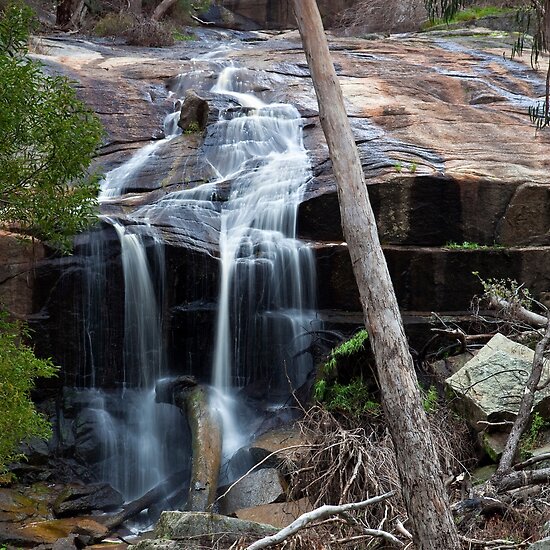 The first step is obscured by a fallen willow tree which I spent about half an hour attacking with my very inadequate for the job secateurs (I needed a saw). When finished I returned to the vantage point from where I took this shot only to find I had trimmed the wrong part of the dead tree, nghh, I left in disgust… haha.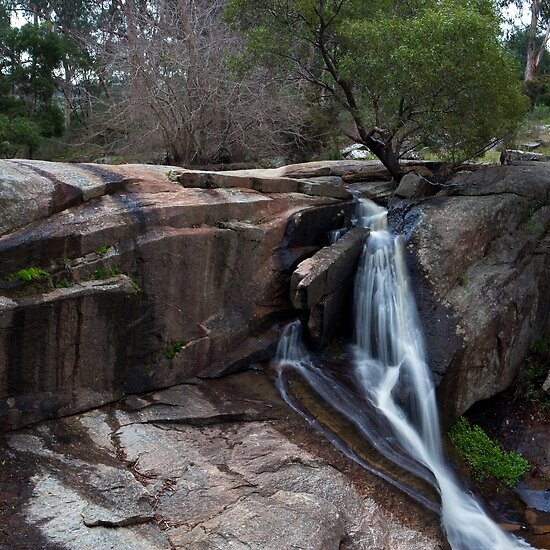 This is actually an ex-granite quarry, the stone being used to make the dam wall (visible in the upper right of this shot) and Flinders Street Station amongst other things. The waterfall as we see it today therefore is far from it's natural state.
Falls Creek Reservoir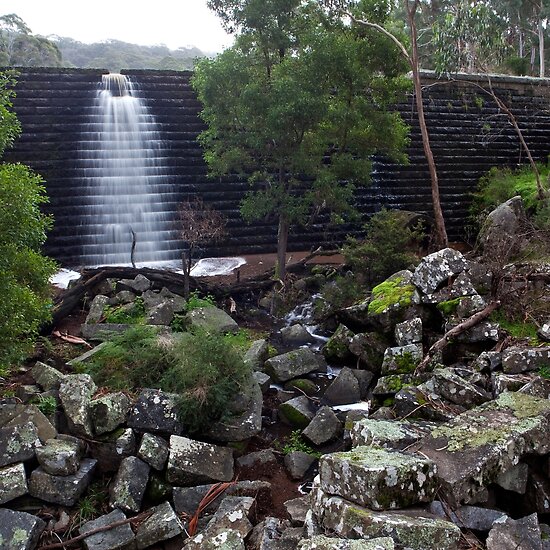 One I spied from the roadside on the way home to visit next time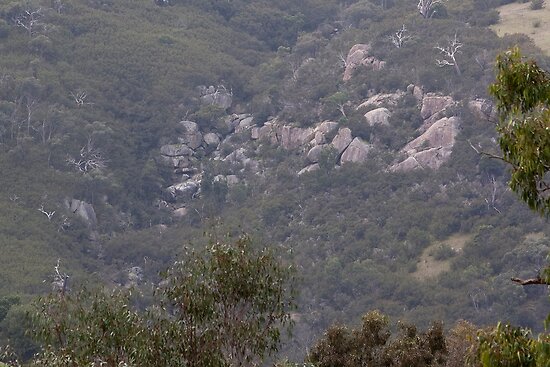 The journey continues…
Previous waterfall addict posts:
A day in the life of a waterfall addict
The beautiful Creek with the ugly name