Sunrise at Dicky's Beach Caloundra, on Queensland's Sunshine Coast, Australia. How could you not feel grateful for this glorious sunrise.
Shot with Nikon D90, Sigma 10-20mm lens. Single shot, tone mapped in Photomatix Pro.
The SS Dicky was an iron steamboat which ran aground during heavy seas in 1893. It was re-floated, but again, heavy seas turned the ship about and back onto the sand where it remains to this day. Dicky Beach remains the only recreational beach in the world to be named after a shipwreck. Each year they dig it out of the sand and oil it, to try and preserve it… and then fill the sand back in. Part of it was removed and sent to a museum, as it was posing a risk. But the lifesavers are directly behind it, to make sure it's safe. The sea is quite rough and I imagine it would be easy to get swept into the steel.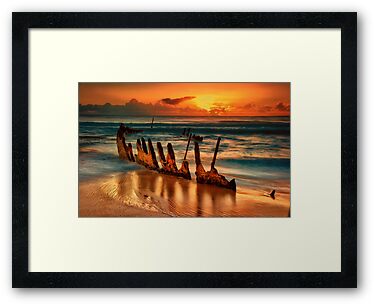 See Also – Broken Dream